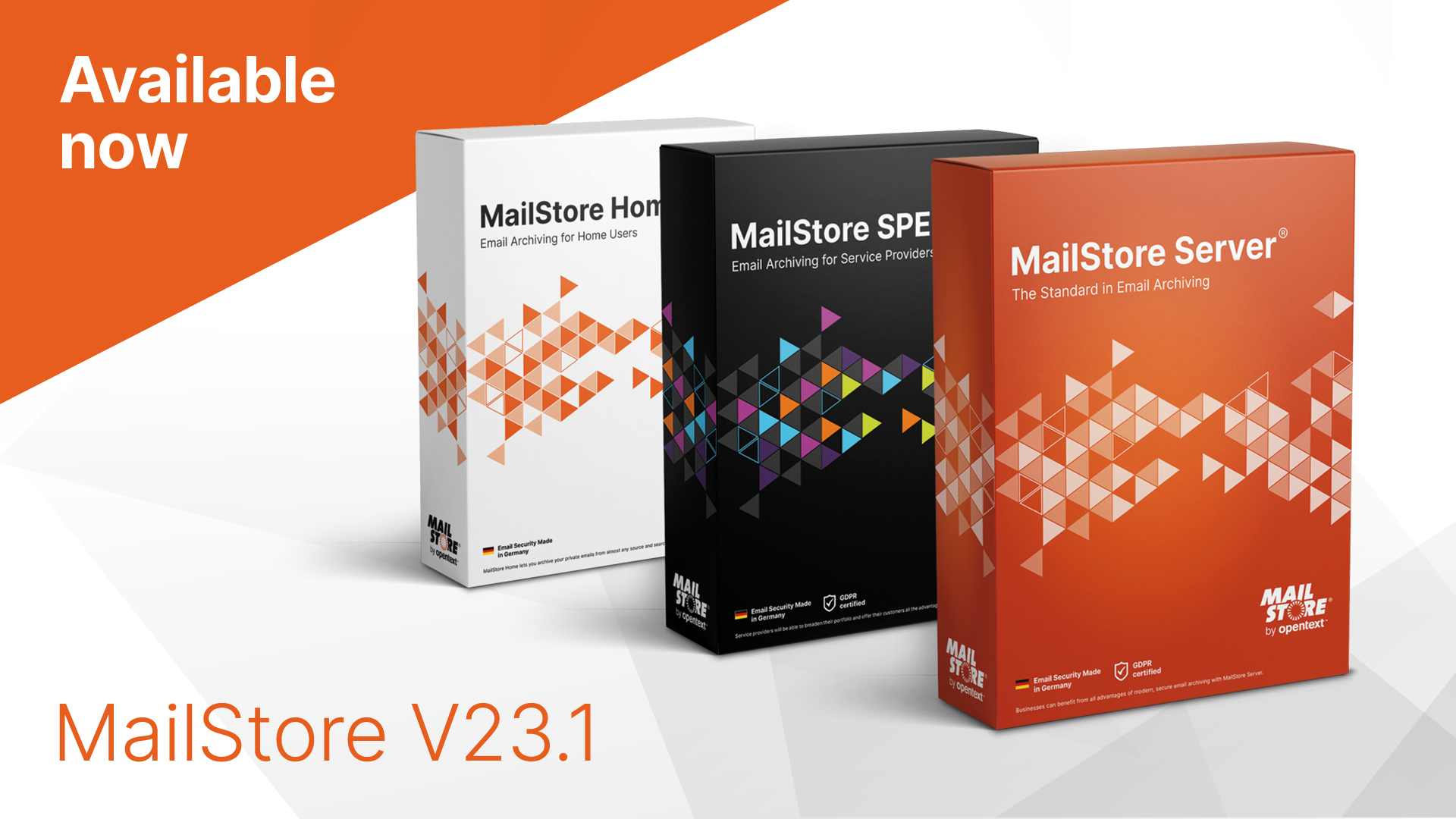 MailStore V23.1: New Retention Policies and MailStore SPE for 2,000 Users
We are delighted to present the latest version of our email archiving software: Version 23.1 of MailStore Server, the MailStore Service Provider Edition (SPE), and MailStore Home is available now.
This blog post will tell you all about the new features in our email archiving solutions along with what else you can expect to find.
What's New in MailStore Server, the MailStore Service Provider Edition, and MailStore Home
Administrators and users of our MailStore Server and the MailStore SPE business solutions can look forward to the following new features:
Improved Retention Policies
Current MailStore customers know that individually configurable retention policies allow administrators to define how long different types of emails are archived for and to specify if and when emails are automatically deleted from the archive. Properly defined retention policies help users of MailStore Server and the MailStore SPE to comply with certain requirements of the GDPR. In V23.1, the configuration options have been improved to enable them to design retention policies with even greater precision. The configuration now allows retention policies to be created for selected archives. For example, administrators can automatically delete emails from a specific archive, such as the archive in which HR emails are stored, after a defined period of time.
MailStore Service Provider Edition for Up to 2,000 Users per Instance
Thanks to the continuous improvement in the performance of the MailStore Service Provider Edition in recent years and the significant increase in how common infrastructures perform, we can confirm that the MailStore Service Provider Edition can now be used for up to 2,000 users per instance following extensive testing. The maximum recommended number of users was previously 500. Please get in touch with our support team if you have any questions about the system requirements and the related calculator.
"18 months ago, we increased the maximum number of users for MailStore Server from 500 to 2,000 following extensive performance tests. Now we can follow suit with the MailStore Service Provider Edition. The new per-instance cap for the SPE confirmed during the tests is a massive benefit for any service provider," says Lars Godesberg, Senior Software Engineer at MailStore Software GmbH.
Additional Improvements
Modern Authentication Support for Microsoft Office 365 Users in the 21Vianet Environment (China)
Back in 2019, Microsoft announced its intention to discontinue standard authentication for Microsoft 365 customers by 1 October 2022. MailStore responded quickly at the time and implemented modern authentication support with version 13 of MailStore Server and the MailStore Service Provider Edition in 2020.
However, this did not include our Chinese customers – until now. With the release of V23.1, we now also offer modern authentication support for our customers in China who can use Microsoft Office 365 through 21Vianet.
New Deletion Option for Archives in the MailStore Client
Administrators can now select multiple archives for deletion via the MailStore Client should they need to. The archives can be easily marked with a single click (Ctrl + Shift) and then deleted together.
Bug Fixes
The new version also contains additional bug fixes and smaller improvements for MailStore Server, the MailStore SPE, and MailStore Home that make it even easier for our customers, MSPs, and private users to use our software.
Update of the Supported Operating Systems
With version 23.1 we have also updated the list of supported operating systems. The outdated operating systems Windows 7SP1, Windows 8.1, Windows Server 2008 R2 and Windows Small Business Server 2011 are no longer officially supported by our software solutions.
Updated Certification: Meeting Data Privacy Requirements
As usual, the latest version of our software, Version 23.1 of MailStore Server and the MailStore SPE, has been certified by an independent data privacy expert.
The certification takes into account all relevant aspects of the European General Data Protection Regulation (GDPR) and affirms that, when used appropriately, both MailStore Server and the MailStore SPE meet all the requirements governing the processing of personal data set out in the GDPR.
You can request a copy of the official GDPR audit certificate from [email protected].
Registered MailStore partners can download the certificates from our Partner Portal or request it by email from [email protected].
Availability
You can download the new version of MailStore Server and the MailStore Service Provider Edition free of charge from our website.
If your MailStore Server Update & Support Service has expired, please contact us to purchase an upgrade that will allow you to use the latest version of MailStore Server. Read here to find out about other good reasons for having an active Update & Support Service in place.
Interested companies can also download MailStore Server Version 23.1 as part of a free, 30-day trial. If you are an MSP and are interested in offering email archiving as a service based on the MailStore SPE, please contact our sales team at [email protected]. Alternatively, you can sign up as an authorized MailStore Partner with us right now for free.
Click Here for the Corresponding Changelogs
More Information
Detailed information on recent versions can be found here:
---
---