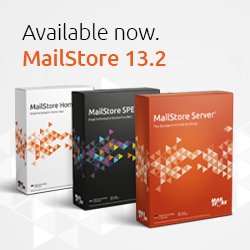 MailStore V13.2: Faster Than Ever and Now for Businesses With Up To 2,000 Users
Five months after the last release, our new MailStore Server Version 13.2 is ready to hit the market! With data security having played the major role in recent versions, Version 13.2 places another aspect of our email archiving solutions, namely performance, under the spotlight. While the new release promises a significant hike in performance in a host of different areas of the software, it has also resulted in a sizable increase in the maximum number of users permitted in a single installation of MailStore Server®, which is targeted at small and mid-sized businesses. Let's take a look at the details.
What Are the Benefits of Version 13.2?
Enhanced Performance: Faster Than Ever
This time, the main focus is product performance. Since releasing the last version, we've tweaked a few things under the hood, so to speak, and customers and users of all three email archiving solutions MailStore Server, the MailStore Service Provider Edition (SPE), and MailStore Home® can look forward to a major increase in performance.
"The boost in performance is perceptible in several areas of the software: for example, the process of rebuilding search indexes is much faster than it was before in all three archiving solutions," enthuses Heiko Borchardt, Sales Engineer at MailStore Software GmbH. "As a member of the technical support team, I'm in contact with our customers on a daily basis and appreciate that a hike in performance not only delivers technical benefits, but enhances the user experience as well. Our customers are going to be really pleased with this."
The new release introduces changes such as improved performance when reading recovery records, and performance-optimizing configuration options for archive stores (the latter only applies to MailStore Server and the MailStore SPE). While on the subject of archive stores, you'll find a blog post with all the details here.
MailStore Server Can Now Be Used by Businesses With up to 2,000 Users
The significant increase in performance of our email archiving solutions comes with another great news: building on other improvements introduced in recent years, MailStore Server can now be used by businesses operating up to 2,000 users (if you have any questions about the system requirements, please contact our support team).
"Depending on the individual IT environment and email volume, our general recommendation was to have no more than 500 users in any single MailStore Server installation," says Björn Meyn, Product Manager at MailStore Software GmbH. "So we're really pleased, after extensive testing, to have been able to augment the user limit so significantly in Version 13.2. And our resellers also stand to benefit from this development."
Other Improvements
In addition to the two highlights of enhanced performance and raising of the user limit, Version 13.2 comes with other improvements. For example, administrators of MailStore SPE can now activate their MailStore SPE installation via a conventional (i.e. non-transparent) proxy and run license reporting through that. Besides that, indexing of PDF attachments is now integrated in all products, thus eliminating the need to install external iFilters. Also, the .NET Core version embedded in MailStore Gateway has been upgraded to guarantee the highest level of security.
GDPR-Certified
As usual, we've had our business solutions MailStore Server and the MailStore SPE audited and certified by an independent data protection expert.
The audit was based on the General Data Protection Regulation (GDPR). This demonstrates that, when used appropriately, MailStore Server and the MailStore SPE meet all relevant requirements governing the processing of personal data set out in the GDPR.

You can request a copy of the official audit certificate from [email protected]. Registered MailStore partners can download the certificates from our Partner Portal or request it by email from [email protected].
Availability
You can download MailStore Server, the MailStore SPE, and MailStore Gateway right now from the company website free of charge. Are you having problems updating to the latest version because your MailStore Server Update & Support Service has expired? If so, please get in touch with us to obtain an upgrade that will allow you to use the latest version of MailStore Server. It makes sense to have an active Update & Support Service for other reasons, too. Click here for a summary of the key arguments.
Interested companies can also download Version 13.2 as part of a free, 30-day trial.
Service providers interested in the MailStore SPE can register here free of charge to obtain all the relevant information, including access to a free trial version.
Home users can download the latest version of MailStore Home free of charge from the Products page of our website.
Click Here to See the Corresponding Change Logs
More Information
Detailed information on all our recent versions can be found here:
---
---