MailStore V13.1: Support of AD FS OpenID Connect and an Enhanced User Experience
Following the release of our last major version MailStore 13 last summer, we are now ready to roll out its successor, Version 13.1. In customary MailStore manner, this will not only enhance the security of our products, but make for a better user experience as well. In addition, in line with Google's general policy to rename its products for business customers, the name G Suite has been replaced by Google Workspace in our products.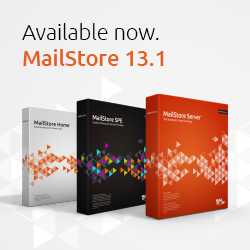 "The highlight of MailStore 13.1 is its support of AD FS OpenID Connect," says Björn Meyn, Product Manager at MailStore Software GmbH. "Up to now, only MailStore customers using Microsoft 365 or Google Workspace were able to benefit from modern authentication. But with the new version, customers using Active Directory Federation Services (AD FS) with their Active Directory or LDAPv3-compliant directory services also stand to benefit from the latest authentication methods with their MailStore products."
The new and improved features offer a whole series of advantages for administrators of our email archiving solutions; but end users and CEOs will benefit from the new version too.
Overview
What are the Benefits of Version 13.1 for Administrators?
Support of AD FS OpenID Connect
Administrators of MailStore Server and the MailStore Service Provider Edition (SPE) are now able to use modern authentication even when using Active Directory Federation Services (AD FS) in combination with Active Directory or LDAPv3-compatible directory services. In this way, for example, it can be ensured that knowledge of user passwords resides exclusively with the identity provider (i.e. with the AD FS). Since passwords are never transferred to or handled by the MailStore solution itself, security risks such as man-in-the-middle attacks are significantly reduced. The new release also allows MailStore customers operating certain hybrid environments that use a cloud service such as Microsoft 365 in combination with other email servers to benefit from modern authentication.
Automatic Updating of Licenses
Another practical feature of MailStore 13.1 is automatic license updating. In the future, administrators and resellers of MailStore Server no longer have to remember to update the license information in their software after a support service renewal or after purchasing additional user licenses, as this information can be updated automatically in the background within 24 hours.
Integration With Monitoring Systems via API
In addition, MailStore Server now allows administrators to call up license information via the Administration API. This makes it possible to integrate MailStore Server into existing monitoring systems, and, for example, to keep a check on the next expiry date of the Update & Support Service or on the number of unused user licenses in their current MailStore Server installation – all via their customary admin tool.
Other Improvements: New Dashboard Warning and MailStore Gateway
Other improvements for the administrator include a new warning that appears on the dashboard and in status reports whenever certificates that are being used as login credentials as modern authentication with Microsoft 365 are about to, or have already, expired. Users of MailStore Gateway don't go away empty-handed either, as the new version supports more than one target mailbox (RCPT-TO) per mail in SMTP server mode. This means that MailStore Gateway now accepts journal emails sent to several target mailboxes during the same SMTP session. This is a genuine advantage, for example, for customers running multiple email domains in one and the same Microsoft 365 tenant.
How End Users Stand to Benefit from the New Version
Customary Login Process Thanks to AD FS OpenID Connect
Thanks to the support of AD FS OpenID Connect, users of MailStore Server and the MailStore SPE in AD FS environments can now use their customary login process and credentials to log in to MailStore Server or the MailStore SPE. This way, they also benefit from additional security features such as multifactor authentication when accessing their archive.
Better Performance When Moving Emails Within an Archive
With the new version, users of MailStore Server and the MailStore SPE benefit from a substantial improvement in performance when moving emails and folders within an archive; this has been achieved through an improved handling of the re-indexing process.
What are the Benefits of MailStore 13.1 for CEOs?
Modern Authentication in AD FS Environments
Even if CEOs already benefit indirectly from simpler handling of emails in the company, specifically archives, we would like to emphasize one point here: We are considered specialists in all matters concerning email archiving, and CEOs can rest assured that our products are based on state-of-the-art technology and comply with the latest industry standards. Support of AD FS OpenID Connect reflects our ambition to provide only highly secure products.
Updated Certification for Legally Compliant Email Archiving
Long-time MailStore customers will know that every new major version is inspected and certified by independent data privacy experts. So as to offer our customers even more security, we've decided to have the intermediate versions of our software, such as MailStore Version 13.1, certified as well.
The audit took place on the basis of the EU's General Data Protection Regulation (GDPR). The certification demonstrates that, when used appropriately, MailStore Server meets all the requirements on personal-data processing defined in the GDPR. Interested customers and partners can request the official audit certificate from [email protected].
Regular, independent certification of our software means that CEOs can rest assured that MailStore Server takes the EU GDPR fully into account.
Managed service providers who are offering their customers email archiving based on the MailStore Service Provider Edition (MailStore SPE) can rest assured that Version 13.1 of MailStore SPE is certified according to the same criteria as MailStore Server, in accordance with the EU's GDPR. Registered MailStore partners can download the certificate from our Partner Portal or request it by email from [email protected].
What Can Private Users Expect from MailStore Home?
Even though our free email archiving software for home users was not the focal point of this release, we've nonetheless introduced a number of smaller improvements and bug fixes. In MailStore Home 13.1, for example, the names of all Thunderbird profiles are displayed when an email is opened in a mail client, and folder names can now easily handle multibyte Unicode characters such as emojis.
Availability
You can download the new Version 13.1 of MailStore Server and the MailStore SPE, together with the latest version of MailStore Gateway, free of charge from the company website. If your MailStore Server Update & Support service has expired, please contact us to purchase an upgrade. Doing so will allow you to use the latest version of MailStore Server.
Interested companies might also want to download the new version as part of a free, 30-day trial.
Service providers interested in the MailStore SPE can register here free of charge to obtain all the relevant information including access to a free trial version.
MailStore Home can be downloaded from the Products page of our website.
The Corresponding Changelogs
More Information
Further useful information on the following topics can be found in our MailStore Server Help:
---
---