Products
Are you new to the concept of Email Archiving? Get an overview on what it´s all about, the difference between Email Archiving and Email Backup and the advantages it offers to a SMB. Read more in our blogpost
"What is Email Archiving?".
More than 50,000 companies of all sizes and from all sectors rely on MailStore Server. Countless public and educational institutions also depend upon MailStore Server.
Advantages for Your Company
Legal safeguard for email compliance
Help to meet the EU's GDPR
Extremely fast full-text searching for emails and attachments
Total protection against data loss
Reduce the workload of mail servers
Save up to 70% storage space
Simplify backup and restore
Independence of cumbersome PST files
Why MailStore?
Trusted by 50,000 organizations in 100 countries
Supports almost all email systems and archiving methods
Integrated and highly scalable storage technology
Minimal system requirements
and easy to set up
Extremely low-maintenance
One-off payment, starting at $ 190.00
The Standard in Email Archiving
MailStore Server
Email Archiving for Businesses
Now available in version 11.2, MailStore Server has grown to become a global standard for email archiving in business following years of successful operation at more than 50,000 companies. Easy to install and 100-percent reliable in every situation.
MailStore SPE
MailStore Service Provider Edition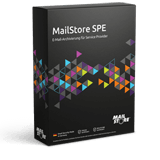 Service providers will be able to broaden their portfolio and offer their customers all the advantages of modern email archiving as a service thanks to MailStore SPE. You can run the MailStore SPE on your own infrastructure and adapt it precisely to your requirements.
MailStore Home
Free email archiving software for home users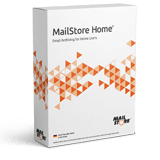 MailStore Home lets you archive your private email from almost any email source and search through them extremely quickly. You will never lose emails again. It is also possible to start running MailStore Home as a portable version directly from a USB flash drive. This can be done without installation and on any PC.
What Customers Are Saying
"From an IT administrator's perspective, MailStore is simple to install and easy to manage. When it comes to the archiving methods provided, the solution is enormously versatile and noticeably lightweight."
PGA of Australia
"MailStore Server offers a host of solutions that represent improvements over our previous approach to archiving and the system has simply been operating perfectly for a year and a half."
Indianapolis Airport
"The ROI on MailStore Server is excellent, with total cost of operations (TCO) fully under control. Investing in MailStore Server was an excellent choice and the solution is proving its value every day."
Cofely