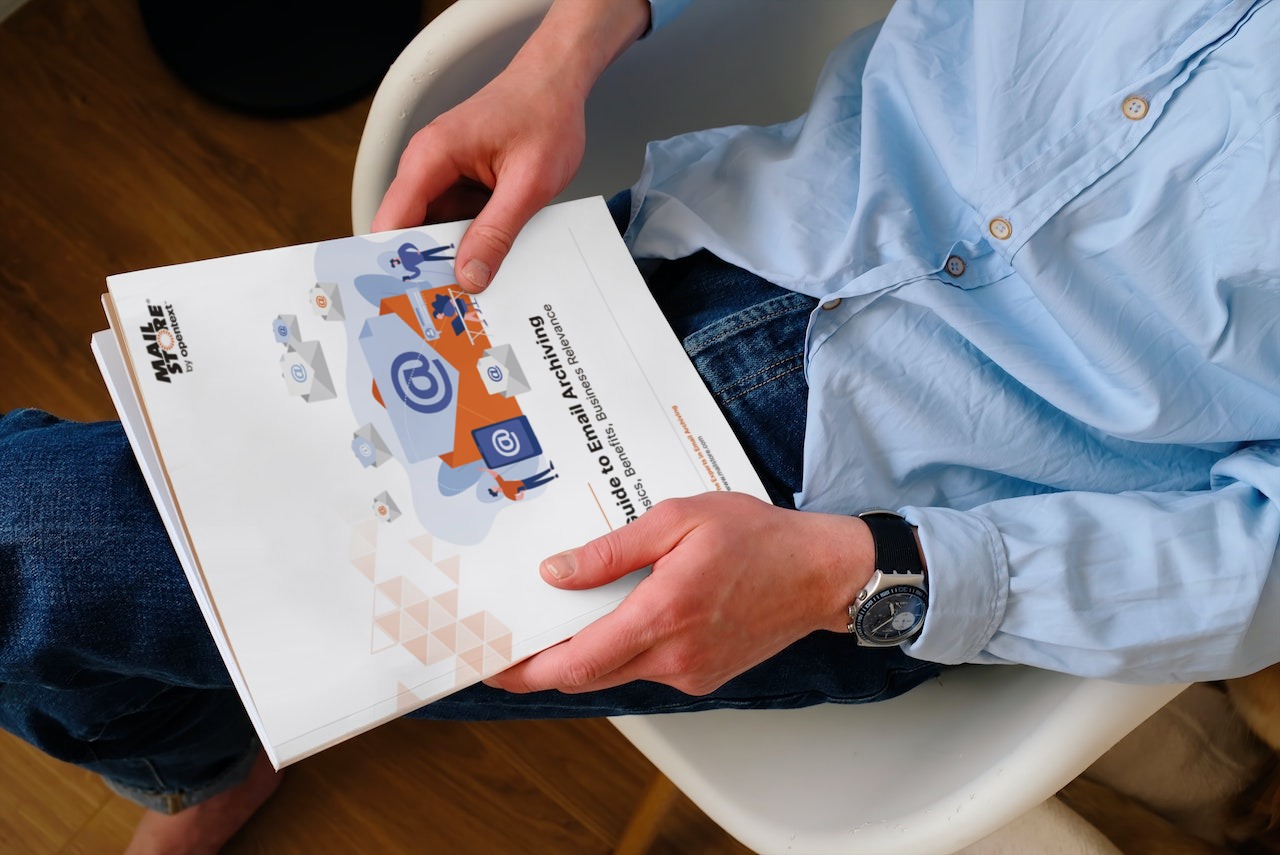 White paper: Guide to Email Archiving
Emails have become an indispensable part of daily life. Indeed, the email remains the no. 1 communication channel, especially in the global networked economy. But with the increasing digitization of business processes, the success of cloud services, and growth in cybercrime, the need to manage digital information and store it safely is more important now than ever before and is a major challenge for many companies. Today, a well-thought-out, effective system of information management is the cornerstone on which successful businesses are based.
This is where email archiving can provide valuable support in helping a company make the best use of the business-critical data contained in emails.
What Is Email Archiving and Why Is It So Important?
With a professional email archiving solution, all emails (including any file attachments) are retained in a central archive in a form that is faithful to the original, tamper-proof, and permanently available over a long period of time.
Depending on the archiving strategy chosen, existing emails can be copied to the archive from a user's mailbox or desktop (e.g. PST files) – this is known as mailbox archiving, or the emails can simply be archived the moment they are sent or received – known as journal archiving.
Also, if the email archiving solution comes with a powerful "self-service" search and retrieval function, users can access all the information they require quickly and efficiently without having to bother the IT administrator.
And other good reasons for using a professional email archiving solution exist besides the effective utilization of email data.
Retention Policies and Data Privacy – How Email Archiving Can Help
In the global world of business, laws and standards now exist that require companies to handle email data appropriately.
First, in the context of commercial and fiscal legislation, and, regardless of the country and sector in which they operate, companies are normally required to retain business-critical documents such as contracts, communications with customers, and agreements, etc. in their original form for a specified number of years ("email retention policies"). Although the details of such regulations can differ depending on the country and the sector in question, the fundamental principal and goal is the same: the complete and comprehensive documentation of a company's business activities.
Second, recent years have seen international laws passed or tightened that regulate the processing of personal data by companies and private individuals (e.g. the European General Data Protection Regulation (EU-GDPR) and the California Consumer Privacy Act (CCPA) in the USA). As emails often contain personal data too, precautions need to be taken to ensure that they are archived in compliance with the privacy laws and that, where applicable, other sector-specific requirements such as the Health Insurance Portability and Accountability Act (HIPAA) in the health sector, and the Family Educational Rights and Privacy Act (FERPA) in the USA are adequately taken into account whenever personal data are being processed. A professional email archiving solution should, therefore, be able to comply with the relevant laws.
The Benefits of Using an Email Archiving Solution
However, a professional email archiving solution not only makes a valuable contribution to a company's information management strategy while facilitating compliance with certain laws. As well as supporting regular data backups, an email archive is also an essential component of any business continuity strategy.
A company stands to benefit from other advantages, too. For example, the load on the email server can be cut and the amount of storage needed – and thus the cost of this storage – reduced as a result, to name but a few examples.
Find Out All There Is to Know in Our White Paper: Guide to Email Archiving
If you would like to learn more about email archiving, our white paper has all the details. Not only do we explain what email archiving is and what types archiving strategic there are, we also cite all the reasons why professional email archiving is not just a "nice-to-have", but a "must-have". Learn about the benefits to be had by your IT team, your users, and indeed the entire company. In addition, our checklist explains the assets you can expect a professional email archiving solution to deliver.
Click here to access our white paper "Guide to Email Archiving".
---
---