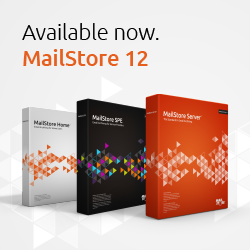 MailStore V12: A New Level of Security and Simplified Archiving of Cloud Services
Almost a year to the day since the release of Version 11, the brand-new Version 12 of our email archiving software is now available to download. Users of MailStore Server and the MailStore Service Provider Edition (SPE) benefit from increased security through easier handling and, thanks to the new MailStore Gateway, from a new and simpler means of archiving journal emails of cloud services such as Microsoft Office 365. With MailStore V12, email management has just become even safer and simpler to use.

"Our customers rely on their archived emails being safe and secure," says Björn Meyn, Product Manager at MailStore. "So it goes without saying that we want to continually improve the safety aspects of our software and adapt to the increasing demands on email security. It's also important for us to preserve the ease-of-use and positive user experience that are the hallmarks of our software."
Automated Support of Let's Encrypt ™ Certificates
One innovation in Version 12 of MailStore Server that is particularly worthy of note is the automated support of digital certificates of the independent certificate authority Let's Encrypt, which offers digital certificates for Transport Layer Security (TLS) encryption free of charge. With this service, we are providing our customers with a simple means to automatically receive and renew official, trusted certificates so that they can build a safe and secure environment. Where required, MailStore Server can help administrators request and configure Let's Encrypt certificates immediately during installation. What is more, the software takes care of certificate renewal itself so that MailStore Server always has a valid certificate. Alternatively, administrators can use the Installer to create self-signed certificates or access existing certificates. Should a problem occur with a certificate, for example when the expiry date is approaching, the administrator will be alerted via the dashboard and if applicable in the status reports too.
More Security also for SPE
As of Version 12, MailStore Server's dashboard and the Management Console in SPE will alert administrators to any unsecure outbound connections to email servers or directory services. And from now on, the Management Console can be used to launch SPE instances in safe mode so that configuration errors can be resolved without causing problems during the execution of profiles or jobs, or impairing the user experience. MailStore Server can now also be launched in safe mode.
With both SPE and MailStore Server, a secure connection is established by default whenever the Outlook Add-in is used. This applies also to the directory services which ensure that secure protocols such as LDAP-TLS or IMAP-TLS are immediately available for new connections set up in MailStore SPE and MailStore Server.
Simplified Archiving of Cloud Services with MailStore Gateway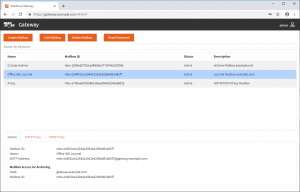 MailStore Gateway for MailStore Server and MailStore SPE is a free add-on program to replace MailStore Proxy that will only be available with limited support from now on. In addition to SMTP and POP3 proxy functions, it provides a simple email server that allows emails from cloud services such as Microsoft Office 365 and Google G Suite, or from other email servers, to be archived. Previously necessary external journal mailboxes from third-party providers are now a thing of the past. MailStore Gateway was designed primarily with the following scenarios in mind:
As a server: in this case, MailStore Gateway functions as the target of a journal or archiving rule for other email servers which can themselves create copies of incoming or outgoing emails
As a proxy: in this scenario, MailStore Gateway operates as an SMTP and POP3 proxy that makes copies of all mails exchanged between email clients and email servers
Security by Design also Applies to the Gateway
All emails stored in MailStore Gateway's mailboxes are protected by strong hybrid encryption. Data cannot be decrypted without the correct mailbox password. For that reason, we urgently recommend that mailbox passwords are kept in a safe and secure location – an enterprise password manager can be useful in this case. Also, MailStore Gateway does not permit user names or passwords to be transferred via unencrypted connections. For this reason, servers to which connections are established via the proxy function must support implicit (SMTPS, POP3S) or explicit (SMTP+STARTTLS, POP3+STARTTLS) encryption.
MailStore Gateway's Management Console can be accessed by common browsers such as Microsoft Edge, Microsoft IE 10 (and higher versions), as well as by Google Chrome and Mozilla Firefox.
Other Improvements for More Safety and User Friendliness
MailStore SPE administrators receive a message if a license fails to update
In response to customer requests, MailStore-integrated users can now opt out of (i.e. deactivate) the password policies in MailStore Server. Thus, as from Version 12, users can choose to adopt less secure passwords – something we would not, however, advise. For safety reasons, we recommend retaining the password policies!
When using Web Access from MailStore Server and MailStore SPE, the browser's language setting is detected and automatically used.
As from Version 12, both MailStore Server and MailStore SPE support Microsoft Windows Server 2019.
Availability
Version 12 of MailStore Server and SPE is now available to download from the company website at zero cost for all existing customers with valid Update and Support Service agreements. Customers whose Update and Support Service agreements have expired should renew via the paid upgrade option and also update to the new Version 12.
Interested companies might also want to download the version as part of a free, unlimited 30-day trial.
Service providers interested in MailStore SPE can register free of charge here to obtain all the relevant information including access to a free trial version.
MailStore Home can be downloaded from the Products page of our website.
Click here to view the respective change logs:
More information:
Important information on MailStore Gateway such as system requirements, configuration and installation can be found in our MailStore Help.
---
---