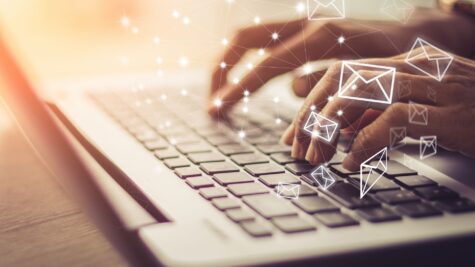 The Benefits of Independent Email Archiving Solutions for Microsoft 365 Users
Today, companies all around the globe use Microsoft 365 cloud services and the advantages are self-evident. Companies no longer need to operate their own infrastructure to provide services on site. Programs and tools obtained simply via the cloud can be scaled easily and cost-effectively in line with user numbers. Especially when compared to a dedicated on-premises system, administration requires fewer IT resources. In addition, the service comes from a trusted, reliable provider. What's more, whether you're using Outlook as a mail client or Teams as a digital meeting room, all communication services are located on the same platform. By and large, Microsoft's office software from the public cloud offers a wealth of communication and collaboration features at a reasonable price.
Nevertheless, companies are advised to install additional solutions for archiving and backing up emails in order to protect the business data they contain and keep this information available in the long term. Indeed, many companies are unaware that Microsoft 365 does not automatically archive and back up email data and, furthermore, that the archiving features built into Microsoft 365 do not offer the scope of services that can be expected from a professional third-party email archiving solution.
Reasons for Using a Professional Email Archiving Solution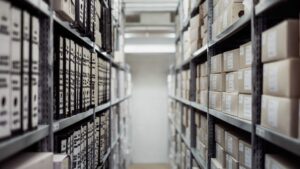 The primary objective of any email archiving solution is to store copies of all a company's emails including file attachments over time in a form that is faithful to the original, quick to find, and permanently available. This enables a company to make optimum use of email as an information resource and reap the many benefits available. Among other things, a professional email archive helps prevent data loss, cut storage demands on the mail server, reduce the workload on an IT team, and comply with the statutory and regulatory requirements governing the retention of business-relevant documents.
Summary of the Archiving Options Available in Microsoft 365
Microsoft offers several different options for securing emails depending on the plan chosen (Business Standard, Business Premium, Enterprise). Some of these features are provided free of charge as part of the basic Microsoft 365 package, while others are included only in the more expensive Enterprise plans. Below is a summary of the native archiving features in Microsoft 365:
Users can move emails to PST files and store them locally on their own computer or in the cloud.
"Archive" Button in Outlook
The "Archive" button allows users to move emails to an archive folder. The emails remain in the Outlook mailbox; only the storage location of the emails change.
Archive Mailbox Without Exchange Online Archiving
The archive mailbox is a separate mailbox with its own storage capacity to which emails can be moved. This archive mailbox must be set up by an administrator.
Archive Mailbox With Exchange Online Archiving
With Exchange Online Archiving (EOA), users can move their emails to a separate archive mailbox to which administrators can apply their own archiving and retention policies.
Limitations of the Native Archiving Capabilities of Microsoft 365
However, IT decision-makers need to be aware of certain limitations concerning Microsoft 365's on-board archiving options. Above all, in terms of security of storage, the use of PST files or the "Archive" button does not protect against data loss. Likewise, the separate archive mailbox provided in M365 (when not using Exchange Online Archiving) does not meet all the criteria of a professional email archiving solution. Only the archive mailbox that comes with Exchange Online Archiving (EOA) supports the functions and features required for professional email archiving, such as retention policies, legal holds and eDiscovery options. However, Exchange Online Archiving is only included in the more expensive M365 plans such as Business Premium and the upscale Enterprise plans.
The "Shared Responsibility" Model
Microsoft applies a policy of shared responsibility to its Microsoft 365 services. As such, Microsoft is responsible for ensuring that services under the Microsoft 365 label are permanently available and are offered redundantly. However, Microsoft does not consider itself responsible for protecting and retaining the data of its customers, and this also applies to any data contained in emails.
Due to the shortcomings and limitations that exist in M365 (depending on the selected archiving function) and the fact that customers are responsible for protecting and retaining their own email data, a professional third-party email archiving solution should be used.
What to Consider When Choosing an Email Archiving Solution for Use with M365
An email archiving solution can be a key element in terms of the long-term protection and retention of business emails. But the decision as to which solution is most compatible with the needs of a business is not always an easy one. Decision-makers are advised to examine the following criteria before choosing archiving software:
Independence From Microsoft
Without an external email archive, users will not be able to access their own emails if the Microsoft Office 365 service fails. A third-party solution will ensure that a vendor lock-in is avoided and the company's emails will remain accessible even if the M365 service fails.
Self-Service for the End User
Some professional email archiving solutions provide users (not just the administrator) with a fast and efficient means of searching the email archive, as well as the ability to restore emails quickly and simply. This can relieve the burden on an IT team as they no longer need to be contacted to deal with such issues.
Protection Against Data Loss and Manipulation
Emails should be protected against accidental or malicious deletion; if they are not, compliance with legal requirements can be problematic. Even if Microsoft 365 is essentially capable of restoring data erased by mistake, situations can arise that impede or even seriously jeopardize daily business operations.
Compliance With Privacy Laws
When used appropriately, certified email archiving solutions ensure that emails are always processed in accordance with the relevant data privacy laws. Especially since the EU GDPR came into force, data privacy has been the focus of public attention. Even in countries outside the EU, increasing attention is being paid to this sensitive matter.
Reasonable Total Cost of Ownership (TCO)
Microsoft's most powerful archiving option (Exchange Online Archiving) is included only in specific M365 premium plans that are generally tailored to the needs of larger businesses. Microsoft 365 plans tailored to small and mid-sized businesses (SMBs) do not include Exchange Online Archiving and this would need to be added as an extra paid service. In this case, a third-party solution could be more affordable.
Archiving and backing up emails are two models that fulfill very different purposes. The purpose of backups is to store data regularly over short to medium time frames, thus providing a snapshot of the data in question. Thus, a backup is a means of disaster recovery.
The primary objective of any email archiving solution is to ensure that email data remain available and recoverable over time. These aspects are particularly important for companies in the context of legal retention requirements for business-critical information. What is known as audit security plays a major role here, meaning that retained emails must be tamper-proof, and it must be possible both to log them and export them.
The Benefits of Independent Email Archiving Software
Third-party solutions can provide extra benefits over and above Microsoft's native email archiving capabilities:
An independent archiving solution allows content from email sources other than Microsoft 365 to be stored within the same archive. Managing several archiving solutions at the same time usually increases the cost and complexity of retaining business records. Using a central archive reduces the number of solutions that need to be administered by the IT team and searched through by users.
Using an archive that is independent of the Microsoft 365 platform makes it easier to follow the 3-2-1 rule, which states that an organization should keep three copies of its data: two locally and one at a remote location separate from the primary system on which the data is created and stored.
Many third-party archiving solutions support email de-duplication, which can significantly reduce storage requirements.
Indexing a larger number of file types makes it easier to search for and retrieve emails and file attachments.
Conclusion: Third-Party Email Archiving Is a Necessary Addition to Microsoft 365
Although Microsoft 365 is doubtlessly a reliable, powerful and versatile platform, it does have its limits in terms of email archiving, and decision-makers in SMBs need to consider these shortcomings carefully. Business leaders and IT managers who are unaware of the facts are exposing themselves to unnecessary risk. A professional third-party email archiving solution can mitigate, even eliminate these risks altogether and should, therefore, be considered.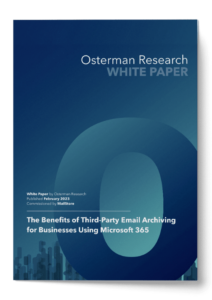 To assist companies in finding a suitable email archiving solution for use of Microsoft 365, the market research institute Osterman Research has produced a white paper on how small and medium-sized businesses that use Microsoft 365 can adequately protect their business email communications. The white paper explores which email archiving options exist, the risks to email data when using Microsoft 365, and what features your organization needs in order to adequately protect and manage the data contained in emails.
Are you interested in finding out more about the results and guidance contained in the white paper of Osterman Research?
FAQ
What Options Do Companies Have for Archiving Their Emails in Microsoft 365?
Microsoft provides several options for archiving emails in M365. They include the "Archive" button in Outlook, storing emails in the form of PST files, and using an archive mailbox that has to be configured separately (with or without Exchange Online Archiving). Alternatively, a professional third-party email archiving solution can be used.
Does Microsoft 365 Automatically Archive Emails?
No. Emails are not archived automatically in Microsoft 365. M365 users must take responsibility for securing their emails themselves and decide which email archiving option best meets their corporate and, potentially, legal requirements.
Do Companies Need to Archive Their Emails in Microsoft 365?
Yes. Emails containing business-critical information should always be archived to protect this precious information resource and exploit it to the full. As a rule, legislators also impose legal requirements on the retention of business-relevant emails and on data privacy, both of which render the use of a professional email archiving solution essential.
Is It Sufficient Just to Create Backups of My Emails in Microsoft 365?
No, the purpose of a backup is to save data (e.g. emails) and systems (e.g. the email server) regularly in the short and medium term, and is primarily a means of disaster recovery. Any data produced or modified between two storage cycles will not be protected against loss and manipulation. First and foremost, the objective of any email archiving solution is to store copies of all emails including their file attachments for many years in a form that is faithful to the original, quick to find, and permanently available. This is essential in order to fully exploit the precious information resource that is email, while meeting the laws governing the storage of emails and data privacy.
---
---