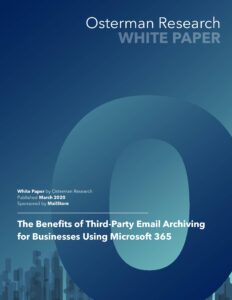 The Benefits of Third-Party Email Archiving for Businesses Using Microsoft 365
Did you know that the emails you store in Microsoft 365 aren't automatically protected against data loss? You need to take action yourself by archiving your company's emails to gain long-term protection against data loss. Read our white paper to learn about the different options available for archiving emails.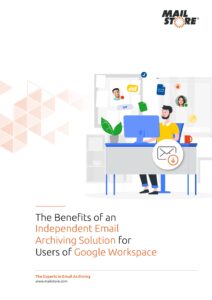 The Benefits of an Independent Email Archiving Solution for Users of Google Workspace
Google Workspace is one of the best-known cloud-based environments for digital collaboration. It even comes with Google Vault, an information management tool that allows you to archive emails. But does this approach really comply with all the laws on retaining business-critical information?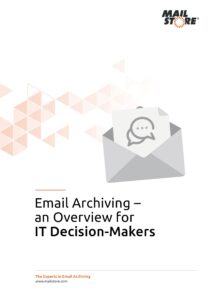 Email Archiving – an Overview for IT Decision-Makers
In our overview for IT decision-makers, we explain why email archiving is an absolute must for any email management environment. We list all the benefits – not only for your IT department but for the company as a whole, and provide a checklist to help you identify the perfect archiving solution for your needs.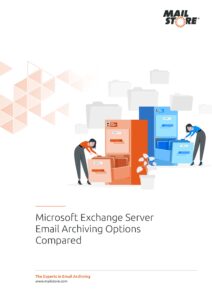 Microsoft Exchange Server Email Archiving Options Compared
Email archiving has long been a key requirement for many organizations using Microsoft Exchange Server "on-premises". So, is it better to use the archiving functions integrated in your local Microsoft Exchange Server installation or should you be looking for a third-party provider for your archiving needs instead? Find out everything there is to know in our white paper.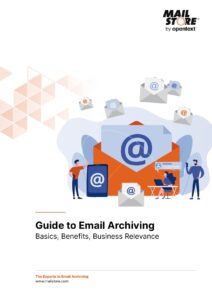 Guide to Email Archiving
What is email archiving actually? What economic and legal grounds exist for archiving your emails in a professional manner? Why are backups not an adequate substitute, and how can I find an archiving solution that is right for me? You'll find answers to these questions in our white paper entitled "Guide to Email Archiving"