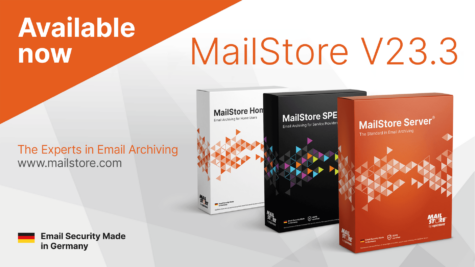 MailStore V23.3: Easy Importing of Archive Mailboxes From Microsoft Exchange Online (Microsoft 365) and Exchange Server, as Well as Improved Retention Policies
We are delighted to present a new version of our email archiving software today: Version 23.3 of MailStore Server, the MailStore Service Provider Edition (SPE), and MailStore Home is now available.
Read this blog article to get all the details on new features and availability of our email archiving solutions.
New Features in Version 23.3
In the following, we list the new features administrators and users of our MailStore Server and the MailStore SPE business solutions can look forward to in the new version:
Easy Importing of Archive Mailboxes From Microsoft Exchange Online (Microsoft 365) and Exchange Server
MailStore Version 23.3 offers Microsoft customers a really simple means to migrate their existing archive mailboxes (also known as "in-place" or "in-situ" archives) from Exchange Online (Microsoft 365) and Exchange Server to MailStore. Administrators can select an individual mailbox or several mailboxes and then import the emails they contain to MailStore Server or the MailStore SPE in a single operation. This is especially helpful for customers who may be subject to mailbox quotas in Exchange Online and Exchange Server, or customers who prefer to keep their archives separate from their Microsoft tenant or Exchange Server.
More information on the benefits of archiving Microsoft 365 emails with MailStore can be found in the white paper entitled "The Benefits of Third-Party Email Archiving for Businesses Using Microsoft 365".
To learn more about the archiving options available to you when using Microsoft Exchange Server, please consult our white paper "Microsoft Exchange Server Email Archiving Options Compared".
Our help pages provide detailed information on the email archiving options available in Microsoft 365, Microsoft Exchange 2016 and Microsoft Exchange 2019. If you're interested in importing emails from other archives, please visit https://help.mailstore.com/en/server/Archiving_Emails_from_External_Systems_-_File_Import.
Improved Retention Policies – Reference Date Selectable
Up to now, the "archiving date" has always been used as the reference date on which a retention policy is based. With Version 23.3, administrators can now define retention policies based on the "message date", i.e. the date on which the email was sent or received. This option makes retention policies more flexible, while improving compatibility with various data retention standards.
Please note: the message date depends on the archiving source and the available data and, for that reason, is not always reliable. You'll find an overview of the different archiving sources and the available data on our help page. Although the MailStore archiving date is considered to be the most reliable as it cannot be manipulated, scenarios do exist where choosing the message date for a retention policy is the better option. One example is where retention policies are being set up for historical emails being archived.
The default setting for existing policies in MailStore software is always the archiving date. If you do opt to use the message date for a given retention policy, your administrator will need to enable this option.
Other Improvements of Version 23.3
Other minor improvements have been introduced for MailStore Server and MailStore SPE. They include a better login experience when using the MailStore client, updates to third-party libraries, as well as various security updates.
In addition, the use of TLS 1.3 means that compatibility with Kerio and IceWarp email servers has been improved. Visit our help page to see the email clients from which you can archive emails using MailStore.
Updated Certification: Meeting Data Privacy Requirements
As usual, the latest version of our software, Version 23.3 of MailStore Server and the MailStore SPE, has been certified by an independent data privacy expert.
The certification takes into account all relevant aspects of the European General Data Protection Regulation (GDPR) and affirms that, when used appropriately, both MailStore Server and the MailStore SPE meet all the requirements governing the processing of personal data set out in the GDPR.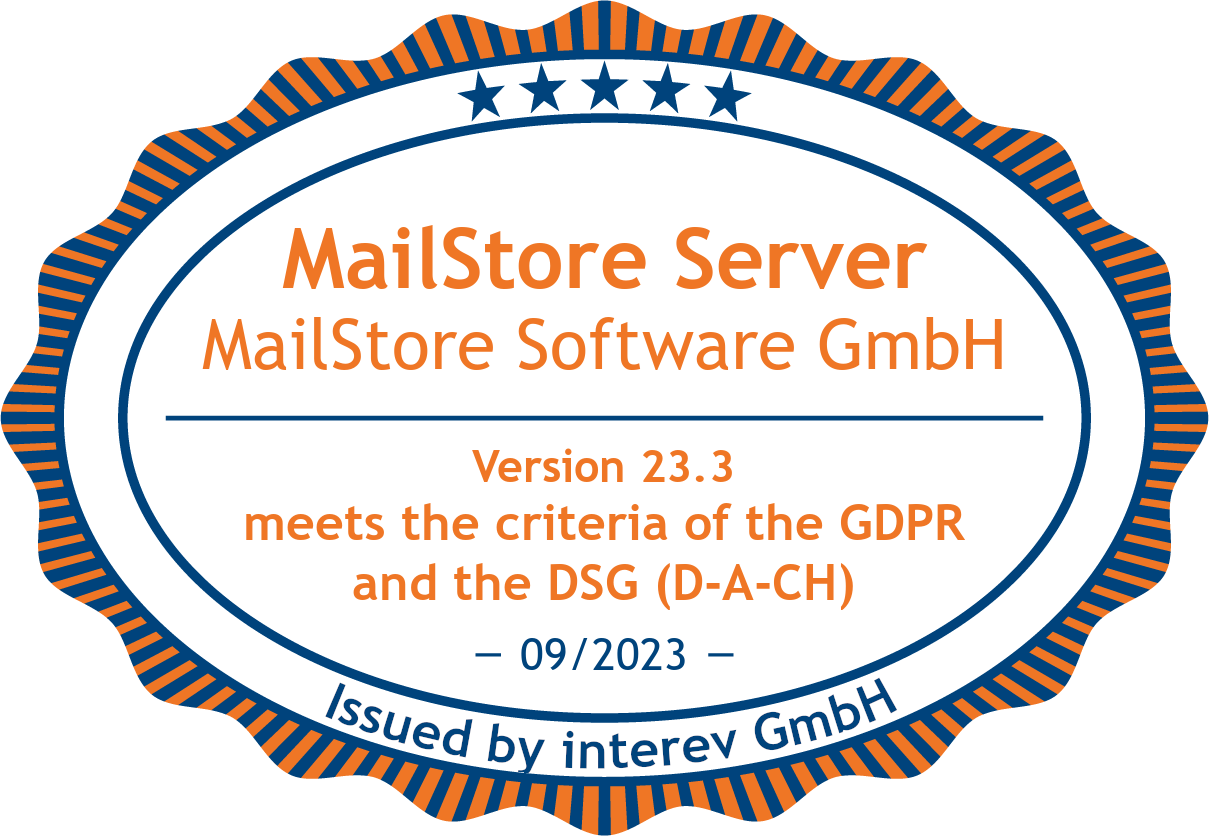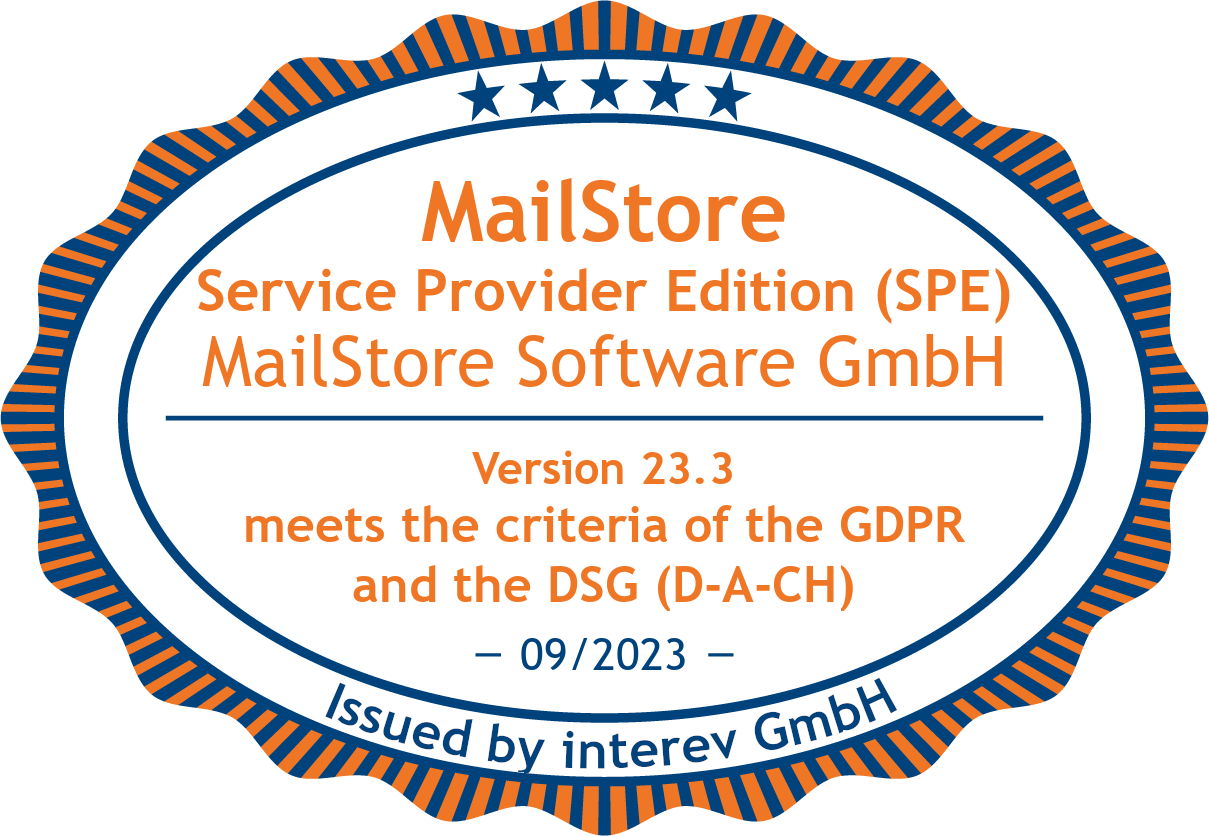 You can request a copy of the official GDPR audit certificate from [email protected].
Registered MailStore partners can download the certificates from our Partner Portal or request it by email from [email protected].
Availability
You can download the new version of MailStore Server, the MailStore Service Provider Edition, MailStore Home and MailStore Gateway free of charge from our website.
If your MailStore Server Update & Support Service has expired, please contact us to purchase an upgrade that will allow you to use the latest version of MailStore Server. Read here to find out about other good reasons for having an active Update & Support Service in place.
Interested companies can also download MailStore Server Version 23.3 as part of a free, 30-day trial. If you are an MSP and are interested in offering email archiving as a service based on the MailStore SPE, please contact our sales team at [email protected]. Alternatively, you can sign up as an authorized MailStore Partner with us right now for free.
Click Here for the Corresponding Changelogs
More Information
Detailed information on recent versions can be found here:
---
---