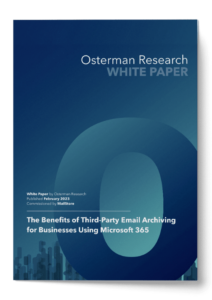 Archiving Emails in Microsoft 365
Did you know that your emails in Microsoft 365 aren't automatically protected against data loss? The white paper shows you how to archive your company's emails to gain long-term protection for your data.
You can expect:
Expert know-how from the market research institute Osterman Research
An overview of the archiving options available in Microsoft 365
Insights into the limitations of Microsoft's archiving functions
Valuable, practical tips on choosing an archiving strategy for your company
What You Need to Know if Your Company Is Using Microsoft 365
Email continues to be the primary method of communication and collaboration for most companies, containing a wealth of critical information which requires protection.
Microsoft 365 offers several functions for securing emails, but not all of them may be right for your business. You need to be aware of the limitations of these integrated archiving options in order, for example, to guard against data loss and reduce the potential legal risks.
In this white paper, you'll find out if Microsoft 365's native archiving capabilities are compatible with your company's needs or whether an independent third-party solution might be the better option and why.
Get Your Free White Paper Now
Produced in collaboration with the market research institute Osterman Research, the white paper is aimed principally at small and mid-sized businesses who are already using Microsoft 365 or intend to do so in the near future.
About the White Paper
Date of publication:
2nd edition, 2023
Length:
23 pages
Format:
PDF file to download
Target group:
– IT managers and IT administrators, CIOs
– CEOs and business owners
From the Contents
The growing importance of Microsoft 365 for businesses
Reasons for archiving emails
Native archiving in Microsoft 365
Microsoft's archiving functions compared
Limitations of native archiving in Microsoft 365
Benefits of independent email archiving solutions
About Osterman Research
Osterman Research is a market research and consulting firm delivering insight on cybersecurity, data protection and information governance. www.ostermanresearch.com
About MailStore
MailStore Software GmbH from Viersen near Düsseldorf, Germany, is one of the world's leading providers of email archiving solutions. Over 80,000 companies, public authorities and educational institutions in more than 100 countries have placed their trust in the products of the German specialist. Because we are "the Experts in Email Archiving".