The Email is the Modern Business Letter: Security for Archived Emails
The email is alive and kicking! In an interview with the German news portal Spiegel Online, Sven Engesser, Professor of Communication Science at the Technical University of Dresden, predicts that the number of emails is going to keep on rising. "That's mainly because the transition from printed post to electronic mail isn't over yet. Even after decades, we're still seeing increases in the volume of new emails because many companies and authorities are only just making the switch from analog to digital media."
So, the email is replacing the conventional business letter. This means that electronic correspondence frequently contains business-relevant information and arrangements concerning the preparation or closure of transactions. It is essential, therefore, that confidential email content and attachments are protected against theft, unauthorized access, and deliberate or accidental erasure. Also, under local rules and regulations in force in many countries, certain emails may be subject to mandatory retention meaning that they should to be archived. In this blog , we explain everything there is to know about business email and regulatory compliance. Software-based email archiving can play a role when it comes to complying with the EU GDPR, too. Email archiving with MailStore Server aims to protect business-critical processes, information, and sensitive data, provide technical assistance in legal compliance, and offer a quick and simple means of using the email as a valuable knowledge resource.
Security is More Than Just Encrypting Emails
Companies should be aware that email security extends beyond transport encryption when sending emails. The security of an email must be maintained throughout its entire lifecycle. Besides secure transportation, this includes making sure that emails are stored in encrypted archives that are accessible only by an explicitly authorized group of people via predefined privileges (as is the case when using our on-premises MailStore Server software). At this point, we'd like to emphasize once more that MailStore, as the software vendor, has no means whatsoever of accessing the emails archived in MailStore Server!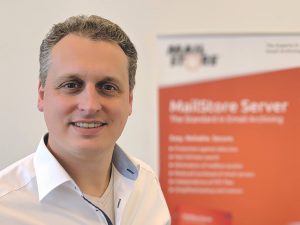 "Emails archived with MailStore Server are stored on-premises – that is, in the customer's own environment and on their own hard drives. The storage procedure is fully encrypted: the encryption keys are specific to each installation and are not communicated to MailStore. And there is no kind of 'back door' through which MailStore could remotely access the archived emails. With MailStore Server, the customer retains full control over the archive".
The encryption technology protects the emails archived with MailStore Server against unauthorized access – and that goes for both the underlying databases and the integrated audit logs. The software also protects the meta data of the archived emails, such as the subject, the sender and recipient, and the folder structure of the archived mailbox. Other safeguards protect the archive against operation on other systems by unauthorized persons, e.g. backup administrators. Especially in cloud-based backup scenarios, this is another means of protecting an archive. MailStore Server also provides the user with options for securely exporting emails.
Security by Default
Top-notch security in the default settings means that MailStore software is "secure by default" the moment it is installed and operated – archiving profiles and retention policies can be implemented according to individual business needs. The default settings ensure that a MailStore administrator has no means of accessing or inspecting user archives. Another default setting prevents an administrator from deleting emails from an archive. And although this setting can be changed – like all modifications made by MailStore administrators – it will be recorded in the audit log for subsequent tracing. Here at MailStore, we try to minimize both the complexity of our software and the associated administrative effort, while keeping default security as high as possible. We do this also with an eye to avoiding the potential for errors during configuration and subsequent usage.

Users Benefit Too!
Often, the reason why new software fails in a company is because it isn't accepted by staff. That's not the case with MailStore Server – we regularly receive reports from satisfied customers confirming the high acceptance MailStore Server enjoys with users thanks to easy operation via the Outlook Add-in and the rapid search function. "Our employees benefit above all from the ability to find archived emails quickly via the integrated search function and from the simple operation," says Michael Vogel, Deputy Head of Technical Operations at Antenne Bayern.
Please visit these pages for a more detailed insight into the technology behind our MailStore Server software. We'd also love to welcome you as our guest at one of our regular live webinars. And if we've managed to convince you of the benefits of our concept, feel free to put MailStore Server to the test yourself in a free, 30-day trial.
---
---