Case Study: Stadtwerke Kulmbach is using MailStore Server to Archive its Emails

Stadtwerke Kulmbach is a public utility company serving the town of Kulmbach in Bavaria, Germany and employing a staff of around 100. Not least due to its close ties with the people of the region, Stadtwerke Kulmbach has to handle a large volume of email traffic that is archived with MailStore Server as part of a professional email management system.
Legally Compliant Email Archiving Made Simple
"We've been using MailStore Server since 2018 and benefiting from the full range of functions and features provided by the email archiving software," says Thomas Müller, Head of IT at Stadtwerke Kulmbach. "As well as offloading our email server and guarding against data loss, the software's speed and simplicity when it comes to archiving emails in a legally compliant manner are really impressive." The discussion with the IT chief makes it clear that in addition to offering excellent value for money, a key selling point for the MailStore product is the positive acceptance from users, who benefit from being able to search for emails quickly.
Combination of Journal and Mailbox Archiving
MailStore Server permits two kinds of archiving, namely journal archiving and mailbox archiving, and this allows companies to pursue different objectives. While journal archiving allows for legally compliant archiving because it archives ALL incoming and outgoing emails, the mailbox archiving approach ensures that folder structures created by employees on the local email client are reproduced in the archive. This also helps to take the strain off the email server. Stadtwerke Kulmbach uses both archiving strategies.
Automatically Deleting Application Documents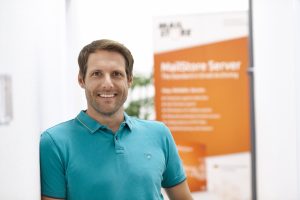 "Companies should apply the principle of data minimization and store as little personal data as possible," says Julian Jansen, Legal Counsel at MailStore. "According to the EU's GDPR, personal data shouldn't be stored any longer than is necessary for the purpose in hand. So, for example, storing a candidate's application documents way beyond the end of the recruitment process is a no-go in Germany".
Stadtwerke Kulmbach uses the retention policies available in MailStore Server to automatically delete candidates' application documents at the end of a given period, thus complying with the regulations set down in the GDPR.
The accompanying Case Study and other user success stories including details of project implementation can be found here: https://www.mailstore.com/en/customers/case-studies/
If you would like to learn more about email archiving in the context of the EU's GDPR, we recommend that you read this blog post and our free GDPR Advisory.
Are you interested in MailStore Server and would like to test the software in your company under realistic conditions? Then take advantage of our free, 30-day trial license.
---
---