Feature Spotlight: MailStore Gateway
With the release of MailStore Version 12, we also launched a new, free add-on program for MailStore Server and the MailStore Service Provider Edition (SPE). As well as SMTP and POP3 proxy functions, MailStore Gateway provides a simple email server that allows emails from cloud services such as Microsoft Office 365 and Google G Suite, or other email servers, to be archived, and it also replaces the MailStore Proxy. Thanks to MailStore Gateway, customers will be able to dispense with journal and archiving mailboxes from third-party providers in the future. At the same time, strong hybrid encryption of the emails stored in MailStore Gateway, together with secure transport connections via TLS, make for optimum safety and security.
James Steel, Channel Sales Manager at MailStore, explains the benefits in a nutshell: "With over 155 million users globally, businesses using Office 365 are an important market for MailStore Software. We're thrilled to announce the launch of the MailStore Gateway, which further underlines our commitment to users of the platform. It's now a simple, 'set and forget' process to automatically store a perfect copy of all email conversations, independently of the Microsoft platform and easily accessible to users." Taking MailStore Server as an example, this Feature Spotlight looks at what MailStore Gateway actually does and examines the various application scenarios.
A note before we begin: Managed Service Providers (MSPs) can use MailStore Gateway in exactly the same way with the MailStore SPE. There's also a spec sheet and a product video to give existing and prospective customers all the information they need.
Application Scenarios for MailStore Gateway
MailStore Gateway is intended for companies without their own email server who are nonetheless looking for archiving their email completely. MailStore Gateway is a highly useful tool especially with Microsoft Office365 and Google G Suite, as well as for customers with simple POP3 mailboxes as it helps them to fully archive their emails while forming an important basis for meeting any compliance requirements. In the following, we look at the different scenarios in which MailStore Gateway can be used.
Scenario 1 – MailStore Gateway as a server: in this scenario, the MailStore Gateway functions as a journal or archiving destination for other email servers which themselves create copies of all emails sent or received.
Scenario 2 – MailStore Gateway as a proxy: in this case, MailStore Gateway operates as an SMTP and POP3 proxy that records all the SMTP and POP3 data traffic passing between email clients and email servers.
Scenario 1: MailStore Gateway as a Server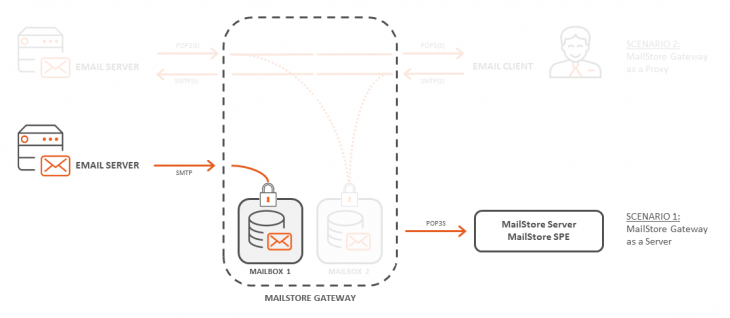 Cloud-based services such as the above-mentioned Microsoft Office 365 or Google's G Suite do not allow administrators to set up an internal journal mailbox, and this may result in potential issues when facing regulatory requirements in specific countries and industries. And it is here where MailStore Gateway offers a helping hand. Quite simply, the tool functions as the target of a journal or archiving rule configured in, for example, Office 365, meaning that copies of all inbound and outbound emails are stored in mailboxes created specifically for the purpose in MailStore Gateway. MailStore Server then accesses these mailboxes and assigns emails to the corresponding user archives.
Scenario 2: MailStore Gateway as a Proxy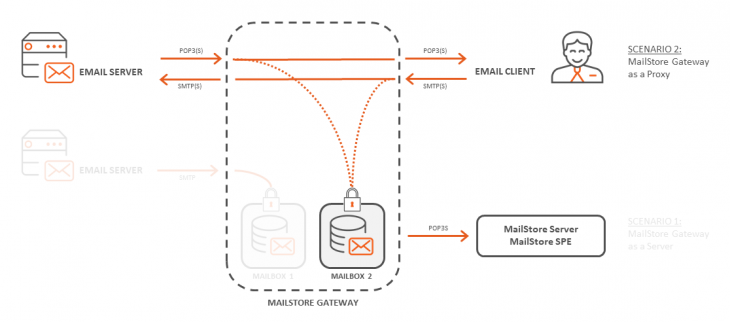 MailStore Gateway can also be a valuable tool for full email archiving in situations where emails are being pulled via the POP3 protocol – typically from a hosted service. In this case, the MailStore Gateway records all inbound and outbound emails and stores copies of them in dedicated Gateway mailboxes. Here too, MailStore Server can access these mailboxes and assign the emails to the corresponding user archives.
Security by Design and User-Friendly Administration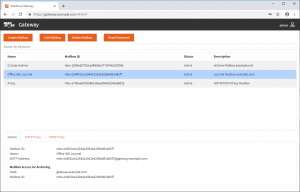 Providing secure software for our users always has top priority for us. This is why we pay attention to providing maximum security during the software development phase. Security by Design applies to MailStore Gateway too! All emails stored in the MailStore Gateway mailboxes are protected by strong hybrid encryption. In addition, user names and passwords are transferred exclusively via encrypted connections. But this focus on maximum security should not be to the detriment of user friendliness. The browser-based MailStore Gateway Management Console is the primary tool used by administrators to manage the MailStore Gateway. Among other things, administrators can create and manage mailboxes from a single, central location. Information on configuration, installation, and system requirements can be found in our Online Help.
Take a look at our special Feature Spotlight video presented by Dee Beasley, Technical Support Engineer at MailStore, and learn all there is to know about MailStore Gateway:
Availability
MailStore Gateway and Version 12 of MailStore Server and SPE are now available to download from the MailStore website at no cost to existing customers with a valid Update und Support Service agreement.
Customers whose Update and Support Service agreement has expired can renew via a paid upgrade and also upgrade to the new version.
---
Additional Feature Spotlights on MailStore Server and the MailStore Service Provider Edition
---