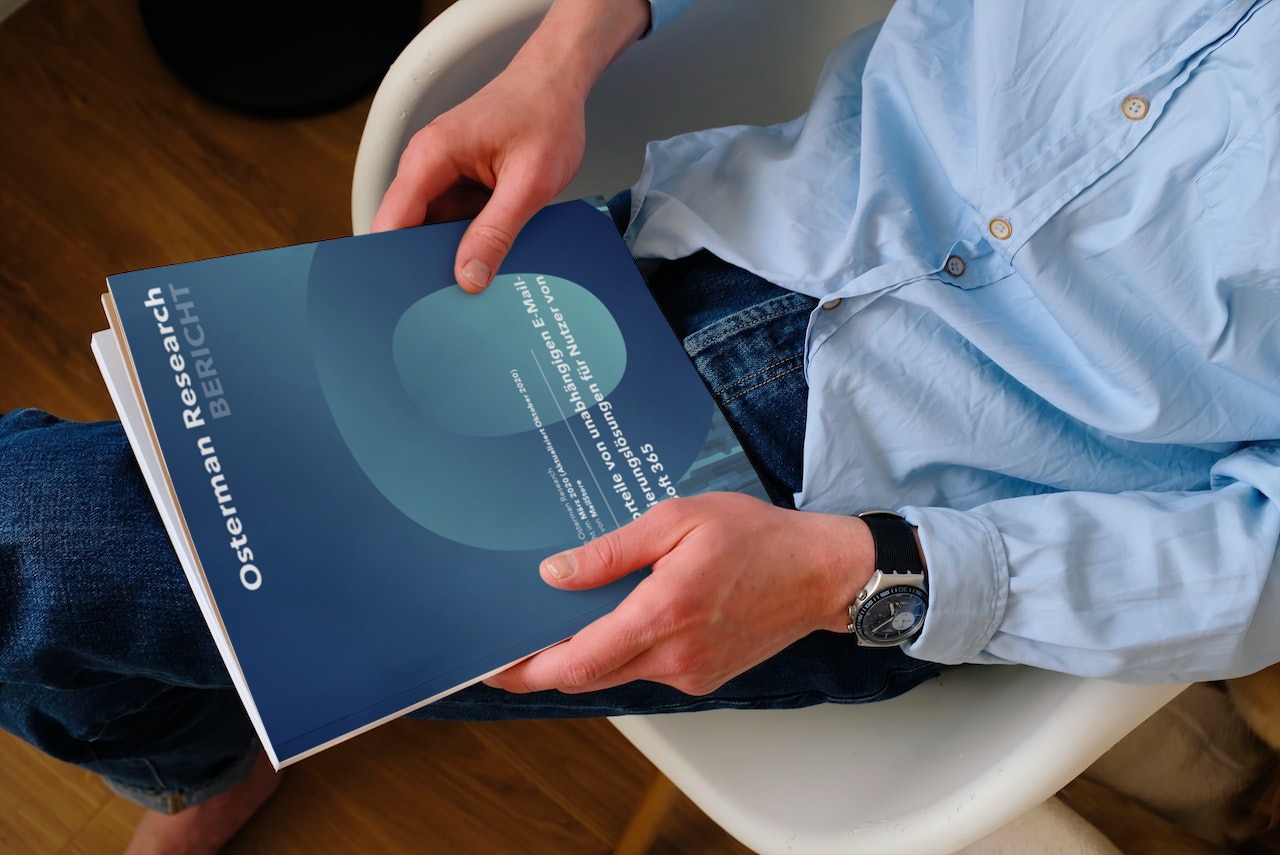 New White Paper: Archiving Emails in Microsoft Office 365
Note: This article has been extensively revised. You can find the current version here: The Benefits of Independent Email Archiving for Microsoft 365 (mailstore.com)
Did you know that even Microsoft Office 365 customers aren't automatically protected against data loss? Businesses therefore need to take action themselves if they want to preserve their emails in the long term.
An email archiving solution can be a key component when it comes to protecting and retaining business-critical emails in the long term. But a decision as to which solution is best suited to the needs of a company is often not an easy one to take.
In order to help companies reach a decision in this regard, the market research institute Osterman Research has produced a white paper on how small and mid-sized businesses (SMBs) can adequately protect their business-critical data. The white paper examines which features your company needs and whether your business would be better served by a third-party solution like MailStore Server or the native archiving options integrated in Microsoft Office 365.
Main Points of Discussion in the White Paper
The white paper provides a comparison of the various archiving options available in Microsoft Office 365:
Exchange Online Archiving (EOA)
In-Place Archiving
AutoArchive (also known as "archive to .PST"), and
the "Archive" button in Microsoft Outlook
In addition, it examines the following key discussion points:
Taking Responsibility for Your own Data
Responsibility for protecting and preserving data lies with the customer, not Microsoft ("shared responsibility model").
Risk of Data Loss
Emails should be protected against accidental or malicious deletion; otherwise, fulfilling legal, regulatory and best practice obligations could be a difficult task. Even if Microsoft Office 365 is fundamentally capable of restoring accidentally deleted data, situations can arise that impede or even seriously jeopardize daily business operations.
Difference Between Backup and Archiving Solutions
Backup and archiving solutions pursue different goals: backups are a snapshot of a single moment in time; they are necessary for tactical reasons so that data can be recovered quickly in the case of system failure or malfunction. In contrast, archiving is used strategically so that data can be preserved over a long period of time in an unchanged format and searched through.
Self-Service for End Users
A third-party email archiving solution allows end users to search through their own data quickly and efficiently and restore emails, thus taking the strain off IT staff.
Independence from Microsoft
Without a third-party email archiving solution, users would be unable to access their own emails if the Microsoft Office 365 service were to fail. So, a third-party solution can help to avoid a vendor lock-in while preserving the portability of your archived emails.
Total Cost of Ownership (TCO)
As Microsoft's Exchange Online Archiving is available only in plans E3 and E5, a third-party solution can be a much more affordable proposition.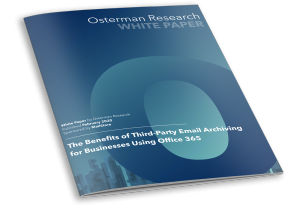 Are you interested in finding out more about the results and guidance contained in the white paper? Then download the white paper of Osterman Research right now!
If you want to learn more about why preserving and keeping your emails available should concern you as a user of Microsoft Office 365, then feel free to take a look at these related blog articles:
---
The statements in this document are based on the fundamental concepts of backups and email archiving. The functions of an email archiving solution discussed here are based on the range of functions provided by MailStore Server. The functions of backup and email archiving solutions may vary depending on the provider.
---
Pingbacks
Consejos técnicos: Archivar correos electrónicos de Microsoft 365 para nuevos clientes del servidor MailStore – PUGA Y ASOCIADOS SERVICES
12.11.2022 18:39
[…] Aunque los correos electrónicos se pueden archivar de forma nativa en Microsoft 365, hay muchas razones para usar una solución de archivado de correo electrónico externo como MailStore Server en combinación con Microsoft 365. Las razones de esto se han resumido en un documento técnico gratuito del instituto de investigación de mercado. Investigación Osterman. Muchas empresas creen, por ejemplo, que ya no es necesario proteger y preservar sus propios datos comerciales críticos después de migrar a la nube (pública) porque asumen que el proveedor de la nube es responsable de hacer una copia de seguridad de sus datos. Sin embargo, esta creencia es completamente errónea. Los clientes de Microsoft 365 son responsables de la protección y el almacenamiento de sus datos, lo que incluye archivar y realizar copias de seguridad periódicas de los datos empresariales. Como proveedor de servicios de nube pública, Microsoft es simplemente responsable de la disponibilidad de su servicio y de protegerlo de las interrupciones. Es por eso que las empresas que utilizan un servicio de nube pública de este tipo deben tomar medidas para protegerse del riesgo de pérdida de datos. Servidor de almacén de correono solo brinda protección y hace que sus correos electrónicos en Microsoft 365 estén disponibles de manera central e independiente, sino que también, entre otras cosas, brinda un autoservicio rápido que permite a los usuarios finales buscar y restaurar correos electrónicos y archivos adjuntos usando el archivo de correo electrónico. Puede encontrar aún más razones para usar MailStore Server en combinación con Microsoft 365 en nuestro blog . […]
---