Announcement: Change in the Configuration Options for Archive Stores
We are optimizing the settings that enable administrators of MailStore Server and the MailStore Service Provider Edition to create archive stores automatically. In this blog post, we are giving you advance notice of the upcoming change so that you can adjust your settings in good time.
The Changes in Detail
At initial configuration, admins have so far been able to choose from the following time frames for creating archive stores automatically:
Alternatively, automatic creation of the archive store can be set up by specifying an email count or gigabyte size of the archive store. At the moment, it's also possible to disable the automatic creation of archive stores altogether.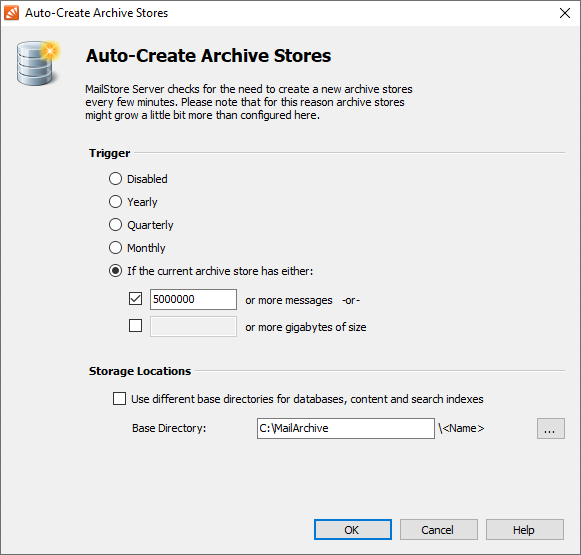 Almost all of these options will now be withdrawn. In the future, archive stores will be created automatically without the administrator having to configure settings. However, by specifying a maximum email volume (in gigabytes), admins will still be able to limit the size of their archive stores in order to align it with their own backup strategy, if necessary.
Why Are We Making This Change?
We endeavor to improve our products continuously, and that includes optimizing performance. In order to eliminate the potential for a fall-off in software performance arising from certain settings, we want to optimize the creation of archive stores. Further, the appropriate use of retention policies allows (old) emails that are no longer needed in the archive to be deleted automatically. This eliminates the need to remove archive stores containing old emails and makes the current configuration options superfluous.
What Do I Need to Do as an Administrator?
As an administrator, if you select an obsolete setting for automatically creating archive stores, you will shortly receive a warning on the dashboard as well as in your archive store settings of your MailStore Server installation. In the Service Provider Edition, the warning message will be visible for each instance in the archive store overview and also in the archive store setting. By clicking on "OK", your settings will be changed to the automatic creation of archive stores. Clicking on "Cancel", however, will retain your old settings. You can use the MailStore Management API to view the obsolete settings at any time, but you won't be able to configure them any longer. You may also need to modify any scripts that use the Management API to automatically create archive stores.
If you do not see a warning message, your configuration will have been optimized for performance during the update, and no further action on your part is necessary.
Should you still have questions, our support team will be happy to help.
---
---
---