80,000 MailStore Server Customers!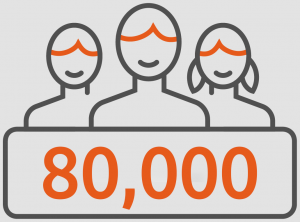 For many years now, small and mid-sized businesses across the globe have been relying on MailStore Server, our solution for professional email archiving. While professional archiving compliant with tax and commercial legislation has been a standard part of most companies' email management environments for quite some time, particularly in Germany, Austria and Switzerland, the arrival of the EU's GDPR has raised awareness beyond these regions for emails and the personal data they contain.
This year, we broke the barrier of 80,000 customers or installations that use MailStore Server to archive business email communications. We reckon that's something to be proud of!
"Of course, most of our customers are still based in our home market, Germany, where we're still growing strongly. But we're welcoming new customers to the fold all the time, and now boast clients from more than 100 different countries around the world. MailStore is sold and used on all continents, either as the on-premises MailStore Server version, or as email archiving as-a-service available from more than 1,000 Managed Service Providers. It's not unusual for us to receive orders from customers and partners located in exotic regions and countries. Just a few days ago, for example, we received orders from partners in Aruba, Barbados, Cape Verde, and Curaçao. That's when order processing starts to become lots of fun!"
Norbert Neudeck, Director of Sales at MailStore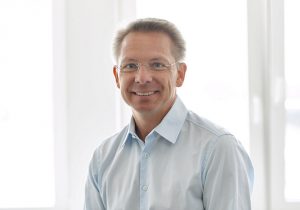 We'd like to take this opportunity to thank our customers and channel partners for the trust they've placed in us and for their years of loyalty, something that cannot be taken for granted in these turbulent times! You'll find an overview of some of our customers in our references and case studies.
Also, more than 1,000 Managed Service Providers (MSPs) worldwide use the MailStore Service Provider Edition to offer their customers email archiving as-a-service.
Customer Satisfaction Well Above 90% in 2020, too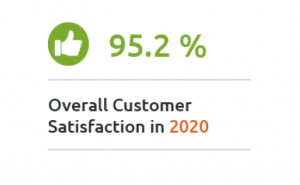 Technical support is a fundamental component of all our products. And the loyalty of our customers is reflected in an "overall customer satisfaction" rating of 95.2% in 2020. Our licensing model means that each and every one of our customers is entitled to receive quality technical support. Once a support case has been resolved, we invite customers to complete a short survey to rate their experience. The average response rate was 13.7 percent, with 95.2 percent of customers stating that they were either "satisfied" or "very satisfied" with our service in 2020.
"From a support perspective, it's great to see how well our customers and partners are using the MailStore products. How do I know this? When I
first looked at the support structures in August 2015
, there were precisely 19,115 active service contracts for update & support, and the annual support volume was incredibly high back then. Today, although we have easily four times as many customers, we've managed to reduce the number of support requests by 28%. But I'm particularly proud of the two
Golden Stevie Awards
my support team won in
2018
and
2020
, not least because of the brilliant reviews we received from our customers and partners in the areas of expertise, professionalism, and speed of support. I'm really grateful to our customers for that, and of course immensely proud of my team!"
Christian Mussmann, Director of Technical Support at MailStore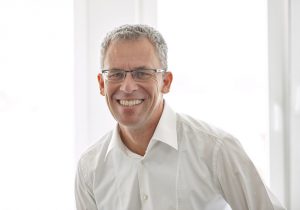 This spring saw the release of several new product features (MailStore Release 13.1), and we're currently looking to strengthen our team in quite a few areas.
On behalf of the entire team, we'd like to quote Bjoern-Arne Meyn, Product Manager at MailStore:
"When I joined MailStore in October 2012, we had just over 10,000 customers. That this number has grown to more than 80,000 in almost 9 years makes me very proud, and it speaks for the quality of our products and the performance of the team as a whole."
---
---