STEVIE® AWARD: Gold for MailStore's Technical Support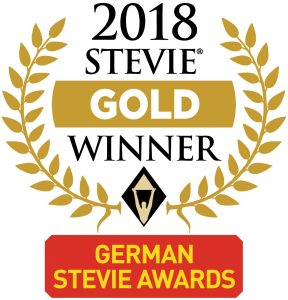 Our technical support has been awarded with the golden STEVIE® AWARD at the GERMAN STEVIE AWARDS 2018! The team led by our Director of Technical Support, Christian Mussmann, was honored by the jury as having a "very efficient and result-oriented project management". The jurors also noted that "the department has coped with growth despite having the same number of employees while maintaining the high level of quality, which speaks for a well-coordinated team and efficient team leadership." A big role in awarding the Gold Award was that, despite growth coupled with increased support, "without restructuring or expanding the department and through successful measures, the excellent customer satisfaction could be maintained, as the positive reviews show. […] Overall, it is important to highlight the service provided as extremely positive."
We have set ourselves the goal of providing top-rate support. The Gold Stevie proves that we are well on the way to meeting this demand.
The entire MailStore team is delighted that our technical support department has received this award and the acknowledgment for the great work they provide every day!
The awards will be presented to winners at a gala banquet at the Hotel Adlon Kempinski in Berlin on 27 April 2018. After this event we will post a detailed report.
The German Stevie Awards are the most all-inclusive business awards in Germany and are now in their fourth edition since 2015. They are one of the Stevie Awards programs, which are widely considered to be the world's premier business awards, conferring recognition for achievement in the workplace in programs such as The International Business Awards® for more than a decade. All organizations in Germany were eligible to submit nominations.
Details about the German Stevie Awards and the list of Stevie Award winners are available at stevieawards.com/gsa .
---
---