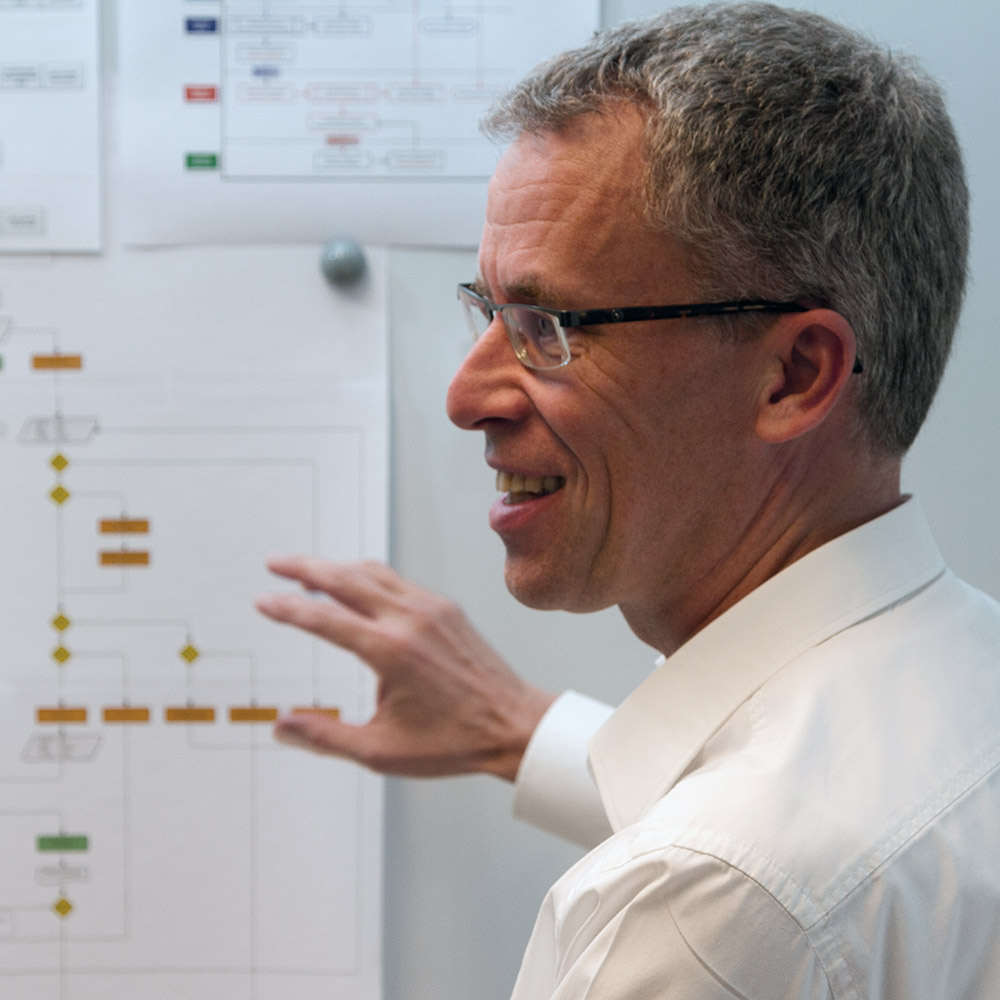 Get to Know our Support Team: Interview with Christian Mussmann
Hi, Christian. How long have you been with MailStore and what do you do at MailStore?
I've been with MailStore since August 2015. I'm Director of Technical Support for the support team, which is currently made up of five members. Daniel Weuthen was the previous Director of Technical Support. He's been Director of Engineering since August and is now responsible for the development team.
What did you do before you joined us in Viersen?
I've been working in customer service and support services since my vocational training in those trades. After that I studied computer engineering in the area of electrical engineering and I spent some time in England at Siemens' VLSI research and development department. After I graduated, I worked in technical support at Novell in Düsseldorf. That operation soon developed into a European support center. I was the first EMEA Novell Designated Support Engineer operating at a large automotive manufacturer for Novell in Sweden. After that, I took on the role of Service Delivery Manager and managed two teams at the Novell European Support Center. I also went on to manage internal projects, and I subsequently put together and managed a reporting team for Novell. When I left Novell, I went to ITConcepts, a software manufacturer and consulting company. I built up the technical support and operational support department in Germany and managed it for almost three years until I came to MailStore.
What tasks does your job involve and what are you working on at the moment?
My job primarily involves ensuring that our support lives up to our service promise. What this means is that we want to provide pre-sales and post-sales support with added value for customers. This requires that we determine the need for support, establish quality assurance, evaluate services, and introduce improvement measures. Of course, it goes without saying that I'm there for my team. I feel it's important to create a working environment that encourages everyone to give their best and enjoy going the extra mile for our customers.
I'm currently working on establishing our quality guidelines in support and professionalizing the quality management system. I'm also planning on standardizing our support services and thereby establishing a standard for support.
You're responsible for technical support. What is 'outstanding support' in your view?
All of the activities our support team undertakes are designed to create added value for customers. These can include the first inquiries about a product, our 'Tech Check' to clarify special software uses in advance, or implementation issues or problems during the support period. At the same time, additional possibilities open up for our partners, be it through training seminars, exchanging information, or other activities. Even though our MailStore solutions are easy to use and prove to be very stable thanks to extensive market testing, we still demand of ourselves that our customers receive the best technical support possible. For us at MailStore this means:
We are an international support team with locations in Germany, the U.S., and Canada
Our support is provided by highly qualified technical experts who have direct engineering access to MailStore and Carbonite products
We provide first level escalation support for Carbonite Germany
Customers can access support through self-service or by telephone, email, or chat
We strive for response times shorter than those defined in our SLAs
We support our customers during implementation planning
Our support team takes advantage of the latest technologies such as diagnostics and remote maintenance tools
We value each and every customer, regardless of the product or the scope of licensing
In other words, if our customers, partners, and indeed, interested parties achieve their business objectives with our products and services and remain loyal to us, then we're on the right track.
I'm delighted that MailStore now belongs to Carbonite, as this opens up a lot of new opportunities and prospects for our team. There are new products, new colleagues, new structures and workflows, fresh ideas, and the opportunity to exchange ideas and experiences. All of this opens up new possibilities with regard to support and employees, both at MailStore and Carbonite.
One of the challenges an internationally-oriented support team faces is, and will be, the fact that we need to provide customers with support in various time zones from the one country. As a result of the merger with Carbonite, we now have a large, distributed support team.
The range of new products also gives rise to a need to acquire new expertise. My team will bring the Carbonite support colleagues up to speed on the MailStore products at a technical level. We've already planned training seminars for Q4 of 2015 so that we can be prepared for 2016. My team has also been trained on the ins and outs of Carbonite products over the past few months. As a result, we have been able to provide escalation support for Carbonite Germany since September.
What does it mean for customers?
I worked at a U.S. company listed on stock exchange for almost 20 years, so I understand the working practices and opportunities for customers. We'll continue to provide outstanding service and likewise, we'll continue to strive to improve. Carbonite is a big supporter of this approach. It's not without reason that Carbonite won a number of awards in August for its support services in the U.S.
MailStore stands for professional, easy-to-use, legally compliant email archiving for SMBs. What does this mean for technical support? Are there any major challenges compared with other support areas in the IT industry?
Email archiving is a complex and sensitive issue, regardless of whether it concerns private users, sole proprietors, or small and large companies. It begins with pre-sales support with questions about the product, usage, and subsequent planning and extends through to implementation and the technical support that follows.
Our software is purposely designed to be easy to use to ensure that end users don't see the complexity behind it during daily use.
However, there's seldom a simple IT issue when it comes to technical implementation. That's why our support employees have to be in a position to explain technically complex issues particularly to customers who do not have IT expertise. This is rarely the case in our target group of SMBs, but it's more often the case than in the enterprise segment.
What topics are set to dominate IT in the coming years? What will they mean for technical support in general?
The IT world is in a state of continuous change. It was like that 20 years ago and it will remain this way in the future. One of the issues set to become increasingly commonplace is effective usage of the cloud. When I ask people if they use the cloud, most say they are still unsure about it and that's why they don't use it. The fact is that cloud services are regularly used on the Internet when using tablets, PCs, or smartphones. Security and archiving concepts that use the cloud are the next logical step. This also makes sense for private users, as more and more electronic data is being generated all the time, whether it's the invoice provided via an online portal or an electronic tax declaration and the associated attachments on local storage medium. These documents are sent and received by email and rarely secured any other way. In terms of support, it means that we need to know our own products inside out, but we also need to know third party products and infrastructure issues such as the cloud, data encryption, security concepts, Internet and communication protocols, data analysis, tracing, computer architectures, and the hardware, in other words, the devices, that are connected with all of these issues. It all boils down to knowledge that has to be collected, tested, and verified to identify and solve problems. I firmly believe that this only works with teamwork, through various disciplines, and with a passionate community.
Be honest now: You spend the entire day thinking about IT. Are you interested in IT outside of work?
Yes, and no. I have a state-of-the-art computer and I subscribe to C't magazine. I also like using LinkedIn to check out relevant groups for support, personnel management, and reporting. And I often meet up with former colleagues to exchange ideas about the latest trends and new innovations, but we talk about other things, too. It's all about finding the right balance.
Before we finish up, we'd like to know a little bit more about Christian Mussmann the person. What do you like to do in your free time?
Well, I'm married and I have two children who are almost grown up. I have quite a few hobbies. I have an electronics laboratory in the basement, and I've always been interested in software development. Digital photography is another hobby. I enjoy taking HDR images, especially when I'm on vacation in places like South Africa, China, and the Maldives. I also like cycling and jogging, but only when the weather is good. In the winter, I dig my snowboard out of the basement and head to the mountains. And my wife and I started sailing a catamaran last year. I love the carnival season in North Rhine-Westphalia and I always get a good costume. I once dressed up as one of the Ghostbusters sporting a non-licensed proton pack.
---
---