Feature Spotlight: MailStore Web Access – Platform-independent Archive Access via Browser
Ease of access to a personal email archive is one of the most important criteria for any user when choosing a professional email archiving solution. Because at the end of the day, the ability to use an archive productively provides considerable added-value. Fast, flexible options for searching for, locating and restoring emails are key attributes when it comes to promoting user acceptance.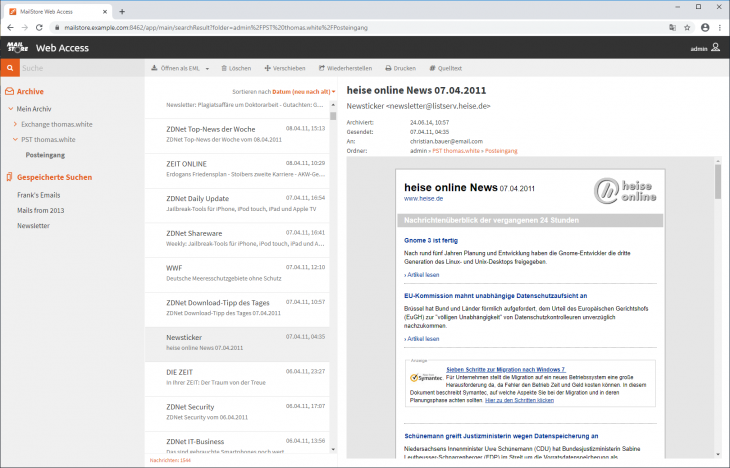 Our MailStore Server and MailStore Service Provider Edition (SPE) products offer four different means of access (although we'll be referring to MailStore Server from now on, all the options mentioned are available for MailStore SPE too):
Integration in Microsoft Outlook via MailStore's Outlook Add-in
Browser-based access via MailStore's Web Access facility
Access in the user's email client via the IMAP server integrated in MailStore Server
MailStore Client desktop application
Besides MailStore's Outlook Add-in, MailStore Web Access is the most popular means of accessing an email archive and it offers a series of additional benefits.
Web Access provides platform-independent, secure access (TLS-encrypted) to your archive from any device that has internet access and an up-to-date browser; no matter whether you're using a smartphone or tablet, iOS or Android, Web Access means your emails are with you virtually all of the time and you can reap the full benefits of email archiving even while on your travels.
How Does It Work?
As the name suggests, Web Access is based on the latest web technology, so all you need is an up-to-date browser on the device you're using. In Version 13 of MailStore Server, Web Access was given an improved responsive design to help reduce load times and increase the visible read pane.
Depending on the configuration, Web Access offers users numerous options ̶ from searching for emails and file attachments, to restoring individual emails.
In Which User Scenarios is Web Access a Useful Option?
As already mentioned, since Web Access is platform-independent, it is a valid access option in any application scenario. Whether this means of access is available to users depends on how the IT administrator has configured the inhouse mail system.
Does your company mainly use Microsoft Outlook as its email client? If so, most users will probably prefer MailStore's Outlook Add-in over Web Access. But if your company is using other email clients under Windows such as Mozilla Thunderbird, or a different operating system (Linux, Mac OS, etc.), then Web Access may well be the option you choose.
Especially when it comes to mobile access via smartphones and tablets, Web Access is a sleek and user-friendly option.
How Users Can Access Web Access
Web Access is installed with MailStore Server and is available for use straight away. Provided the MailStore administrator hasn't configured things differently, users can access Web Access via the following URL:
https://<fqdn>:8462

You should replace the variable <fqdn> with the fully qualified domain name (FQDN) of the MailStore Server computer, e.g.: mailstore.example.com. Your MailStore administrator can provide you with information on the exact URL to be used.
When the corresponding URL is called, MailStore Server will determine how the user is to be identified. There are two possibilities here:
If MailStore Server itself is in a position to verify the login data, a password dialog routine will appear when the Web Access URL is called. If users were created in MailStore Server by way of synchronization with a user directory, these users can log in with their directory user names and passwords. After entering the correct password, the user can log in and access the archive.
If the user was synchronized from Microsoft 365* or Google G Suite, the web browser will be re-routed so that authentication can be carried out with the aid of the Microsoft (Modern Authentication) or Google (Open ID Connect) authentication service.
If your company has also seen an increase in the number of staff working from home as a result of the COVID-19 crisis, then read here to see how you can make an email archive available to your remote workers.
Web Access Has Convenient Search Functions Too
As with MailStore's Outlook Add-in, users can search their archives quickly and efficiently, for example for certain keywords. Any email attachments will be scanned at the same time. An advanced search function is also available to allow you to use wildcards to search for words containing certain elements. With the secure HTML preview, you can conveniently display search results and then recover selected emails from the archive in a single step ("one-click restore").
Practical Tip: Copy & Paste Web Access to Your Start Screen
To close the article, here's a small tip: On most iOS and Android devices, you can use the browser (normally the menu behind the "hamburger button") to copy the Web Access URL and paste it as a direct link or bookmark on your device's start screen.
Where Can I Get More Information and Try the Product Out Myself?
If you'd like to know more about MailStore Server, we would recommend our regular webinars that also feature a live demo. And remember that you are always welcome to test MailStore Server's full range of functions in a free, 30-day trial.
If you have any technical questions on how to install Web Access (or on any other feature of MailStore Server) either before or during the trial period, our colleagues from Technical Support will be happy to deal with them.
For more information how to configure MailStore Web Access, please visit our extensive MailStore Server Help.
*The product name (Microsoft 365/Microsoft Office 365) may vary according to the product purchased.
---
---