Tech Tips: Tips for Using the Outlook Add-in
In our blog series Tech Tips, we want to share our expertise with interested parties, customers, and partners so that everyone gets the very best out of MailStore Server. Presented in the form of a blog article and a video, our Tech Tips provide you with all the information you need on a range of relevant subjects. In this Tech Tip, we offer you some valuable tips on using MailStore's Outlook Add-in.
Are you already using the MailStore Outlook Add-in? MailStore's add-in for Outlook is the most popular method used by MailStore Server users to access their email archives.
The MailStore Outlook Add-in gives you a variety of options for browsing your email archive quickly and transparently, including:
Archive Folder Structure

Quick search – suitable if you want to run straightforward searches.

Advanced search – suitable if you want to run more complex queries. This search facility provides you with extra selection and filter options, such as by date or size of email.
Archive folder structure – here, you can display all your archived folders and navigate through the email archive via the usual folder structure of your email client.
There are, however, two more ways in which you can speed up and simplify archive accesses that must be performed on a regular basis.
First, you can add elements from the MailStore tab to the quick access toolbar. Once this quick-access option has been set up, you can call up your archive without having to make a detour via the MailStore menu bar in Microsoft Outlook. By integrating this option in your user interface, you will have an additional means of running a quick search directly with just a single click of the mouse. In our video, we provide step-by-step instructions for setting up this option in Microsoft Outlook 2019.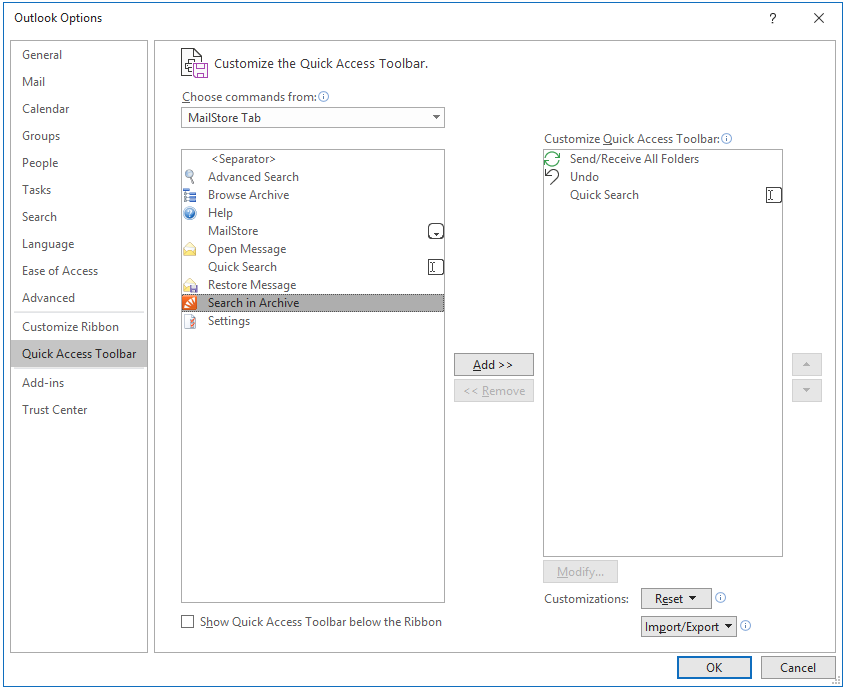 The second option entails saving "frequent searches" for later use. Having done this, you'll also be able to run the saved search via Web Access, and you'll notice also that your search now appears under Saved Searches in the archive folder area. Simply click on the folder to automatically start the search. This will save you lots of time with frequent searches as you don't have to keep re-entering the same search criteria time and again. And if you ever need to modify a saved query, you can do so by calling up Advanced Search – Open and saving any changes you've made. Our video also shows you how to set up this form of search in detailed steps.
Are you interested in the Microsoft Outlook Add-in? You can find the download here.
More Tech Tips
We also encourage you to take a look at our other Tech Tips on the following topics:
Test MailStore Server now with our free 30-day trial version.
Do you have a particular question about MailStore Server that you'd like to see answered in a video? Feel free to let us know.