Why MailStore Server and Office 365 / Microsoft 365 together make sense
Microsoft Office 365 is on the rise, and the number of business users is increasing all the time. Here at MailStore, we too have noticed that a growing number of customers are engaged in switching to the cloud-based application of the IT giant from Redmond, USA. The trend is also being fueled by the knowledge that support for Exchange Server 2010, Windows Server 2008, and Windows Small Business Server 2011 is due to end in 2020. But customers who are using MailStore together with other on-prem email servers are also wondering whether our MailStore Server solution can be used with Office 365. The simple answer is a resounding "yes, it can!". You can run MailStore Server with Office 365 and continue to enjoy all the benefits our software provides in terms of email archiving within a professional email management system! And there are other aspects that make it worth to keep on using MailStore Server.
Go easy on your most important resource: time!
One thing a company needs when it switches to Microsoft Office 365 is time! – the cloud solution doesn't work "out of the box"; migration requires time and effort. Then, there's the additional time needed to install an email archiving system under Office 365 – time that any IT boss would much rather be investing in daily business. And ultimately, it's our belief that companies shouldn't encumber brand-new systems with old data, and that's why we always advise our customers to archive rather than migrate their emails.
You're already using retention policies under a legally compliant archiving system – so why change?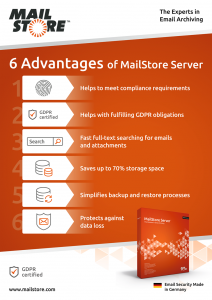 The challenges faced by a company's in-house IT department are many and varied, and they include not only a growing threat situation but also what is known as shadow IT. Mindful of the need to stay on top of all these challenges, it's worth asking whether it makes sense to spend time replacing a fully functioning email archiving solution in which retention policies and privileges have already been defined and implemented; the old adage "never change a running system" automatically springs to mind. And that's not forgetting users in the company who are more than happy to keep on using proven functions such as Quick search or Advanced search, and Outlook Add-in.
So, to close this blog post, here's our advice: if you're planning to migrate to Microsoft Office 365, stick with MailStore Server that helps you to continue archiving your emails in a legally compliant manner. It means you'll be able to concentrate on the technical side of migration while retaining an email archiving system which is already configured that helps you to meet compliance requirements; and what's more, your staff can keep their customary working environment. So, there's really no need to migrate archived data at all.
"We were looking for a solution that would complement Microsoft Office 365. MailStore Server gives us the means to archive all our emails centrally in a Windows environment. By access permissions and using encryption, we can protect archived emails from being deleted either deliberately or by mistake."
Marian Hampl, IT administrator at the Czech real estate development company FINEP
In one of our Tech Tips, we show you how to archive emails with MailStore Server and Microsoft Office 365 using our free add-on program MailStore Gateway. In this case, you don't need an additional external mailbox in order to set up a journal archiving solution where emails are archived the moment they are received or sent, then copied to a journal mailbox via a rule configured by the IT administrator in Office 365.
Learn more about MailStore Gateway and how to find the right archiving strategy for your company's needs.
You'll find more information by going to our MailStore Server Help.
Tip: A step-by-step guide for existing MailStore Server users how to change the archiving from Microsoft Exchange Server to Microsoft 365 is available here.
And, of course, if any issues do arise during the technical implementation phase, the support we provide as part of the Update & Support Service can answer questions on individual scenarios.
---
---
---