Remote Working at MailStore During the Coronavirus Pandemic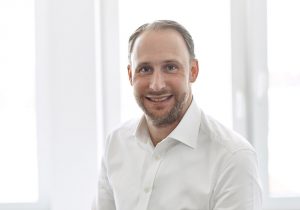 Like the rest of the MailStore team, I'm currently working from home. Due to the cancellation of a couple of appointments (which would have required my presence), I have a little more time on my hands than usual. That's why I decided to write a few personal lines on how we, as staunch advocates of the presence culture, are dealing with having to work from home during the coronavirus crisis and share my experiences and lessons-learned, as MailStore's Managing Director. I will also be answering several questions on the subject from our corporate communications manager, Wilm Tennagel.
A Presence Culture Isn't About Monitoring Attendances
It's true: at MailStore, we rely on a presence culture in our everyday work. In order to properly understand our particular presence culture though, it is important to know, that it is not guided by the conventional principle of recording attendances, where people are told "you have to be in the office from 8:30am 'till 5:30pm". On the contrary, we introduced an automatic timekeeping system over 10 years ago – not because we wanted to monitor or control, but because we wanted to enable our employees to keep flexible working hours and achieve a better balance between work and family life through personal and independent time management. Taking your kids to kindergarten or school, having to wait all morning for a workman to arrive, fitting a doctor's visit or hair appointment and suchlike into our everyday life has never been a problem at MailStore, thanks to these flexible working hours.
A Presence Culture Doesn't Mean That you Can't Work From Home
Three years ago, we also began offering employees in departments where it was feasible from a technical and organizational perspective, and where it made sense for the company and its work outcomes, the possibility to work from home. And many of our colleagues in the marketing, product management, program management, and engineering departments, among others, regularly take us up on this offer.
HOWEVER, as an international and agile software company, we do work on multiple different projects and in interdisciplinary teams on a daily basis.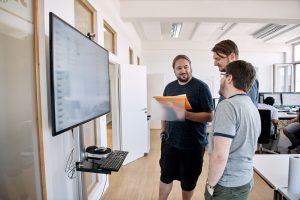 We use the Kanban method, and congregate daily at our analog Kanban boards for stand-up meetings. We chat to one another by the coffee machine, by the drinks refrigerator, in the corridors, common rooms and offices. Many of us have lunch in our big kitchen every now and again. We play FIFA, go to the gym together or meet for a walk by the Niers river. In short, we're here to work – but we also live together to a certain extent!
… Then Came the Coronavirus. And we Were Prepared
Analog communication and social interaction, the day-to-day presence in our office, were and remain key components of our corporate culture. Then came the coronavirus.
If truth be told, we actually were very well equipped already when it became evident that, due to the current situation, everyone was going to have to work from home for an extended period of time.
We'd switched from workstations to laptops in the last couple of years and our IT department had only just finished digitizing our entire phone system (including endpoints). All that was left to do at short notice was to set up the remaining two or three laptops, while also making sure that the VPN connection was working for all our colleagues. Next to managing and documenting all our projects using the above-mentioned analog boards, we also do so digitally via tried-and-tested systems such as Jira and Confluence – which is why no major adjustments were required on that front either.
At that stage, our main concern was our Microsoft Office365 instance, as our IT department was working on an internal migration at the time and it wasn't clear whether Microsoft Teams, for example, would still run smoothly afterwards. Teams, incidentally, has long been a key component of our daily work.
Moving to Remote Working Overnight
And so, from one day to the next, we all swapped our MailStore offices for our new remote workstations – that is to say the dining table, the kitchen table, the coffee table or a more conventional desk. By the way, I'm deliberately calling it "working from home or remote working" rather than referring to a "home office" – legally speaking, in Germany at least, these are two fundamentally different things, as our colleague explains in this blog article. So what's it like, working remotely for MailStore?
For the most part, it's business as usual: we're taking calls, processing orders, staying in touch with our partners and maintaining to be close to our customers through our support service (customer satisfaction ratings remain excellent, by the way). Our developers are coding diligently, the marketing department is busy publishing whitepapers, partner newsletters, blog posts, etc., all projects are moving along smoothly, our stand-up meetings and project meetings are being held as ever (only digitally), our customer data base is constantly being enhanced, the accounting department is incessantly booking invoices and so on, and so on, and so on…
Now to Corporate Communications Manager Wilm's questions:
From an organizational perspective, how did we manage to move away from the credo of a presence culture and enable employees from ALL areas of the company to work from home at such short notice?
"As I've already mentioned, we in fact were very well prepared – although that was to some extend by chance, as I readily admit. Customer-facing departments (i.e. Customer Service, Technical Support, and Sales), and our project management department were particularly crucial. But by guaranteeing that the company was remotely accessible via our new VoIP system and by switching to VoIP Clients on the PCs, as well as by digitally mapping our projects and processes with Jira and Confluence, it was a relatively simple step for the company as a whole to begin working from home.
Our day-to-day dealings with one another is also aided by the fact that we've been using internal chat software for five years now, which means that our colleagues always are able to communicate digitally as well as by analog means. Nowadays, we use Microsoft Teams. This actually forms the basis of our communication with one another at the moment. Whether it's a meeting, a chat or a post, everything is managed and categorized using Teams."
As Managing Director, what lessons have you learned and what advice can you give other mid-sized businesses?
"We're a technology company, so it stands to reason that we use the latest technology (including communication tools). I would advise every company, particularly smaller ones, to persevere with digital transformation. And I'm not talking about the much-heralded digitization as practiced in major companies: just about trying to keep more or less up to speed with the latest technology. Investing in laptops instead of desktop PCs, in a VoIP telephone system, and digitizing processes with the help of software cost time and money in the short term, but in the long run they allow us to work more effectively and autonomously (even without the coronavirus).
I didn't attach that much importance to it in the past either, but I'm lucky enough to be surrounded by a team who know more about it than I do – it's important to trust experts and "techies" every now and again!"
If the company keeps on operating smoothly while everyone is working remotely, how do you aim to persuade your employees to get back in their cars and drive to work once the crisis is over?
"I don't think I'll have to persuade them at all – they'll do it voluntarily and with a smile on their faces! Indeed, I think a lot of people will realize even more that being at home means spending time and living with your family and partners, while being in the office means spending time and working with colleagues and friends. Both are important aspects of our social life and we shouldn't dispense completely with either. At MailStore, we'll continue to abide by a corporate culture that focuses on being present in our offices."
Have you had any feedback from your employees – are some perhaps looking forward to FINALLY being able to work from the office again?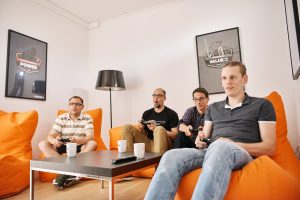 "A lot of our colleagues are grateful that we, as employers, reacted responsibly to the coronavirus crisis and enabled all our employees to work from home. In the current situation and with the closure of schools and kindergartens, many of them are having real trouble looking after their children – even without the risk of contracting the virus. I've already heard several people say they can hardly wait to pack their kids off to school and start working "normally" again. A lot of people also seem to be missing our Xbox room and daily rounds of FIFA a great deal?."
What does the coronavirus mean for MailStore?
"From an economic perspective, the coronavirus means the same for MailStore as it does for thousands upon thousands of businesses worldwide: the dawn of one of the biggest economic crises since World War II! We'll all have to knuckle down to get ourselves out of it – regardless of whether working from home or from the office!"
---
---
---