Glancing Over Someone Else's Shoulder: A Day in the Life of a Support Engineer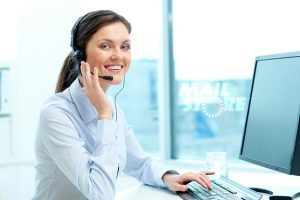 At MailStore, we are committed to providing top-rate support. We aim to provide our customers with the best possible support within the scope of their support contracts. Whether customers are in the pre-sales phase, implementing the initial installation, have questions about the product, or are dealing with later support issues, our support team, led by Christian Mussmann, Director of Technical Support, do their all to guarantee the smooth operation of our software. This was confirmed by a recent customer survey: Our customers gave us top marks. For this blog post, one of our Technical Support Engineers walked us through his typical working day.
"Every day at work, my colleagues and I address our customers' questions and problems from 8:30 a.m. to 5:30 p.m. These customers are freelancers, CEOs of small companies, IT service providers, and IT administrators and managers. Our team also includes colleagues in the U.S. and Canada who serve international customers, with regard to the time difference. We cover all technical support for our commercial software MailStore Server and the MailStore Service Provider Edition (the SPE) – as well as technical consulting during pre-sales. Depending on their respective support contract, customers can either reach us via email (Standard support) or directly on the phone (Premium support). We usually process 50 – 70 requests a day. These are filtered by our Customer Service Representatives (CSR) and then internally forwarded for processing. At the same time, we also keep an eye on our online support communities, where MailStore Home users share information with one another.
Workday
My workday begins with processing the requests that came in during the previous evening and night. We process these in our ticket system, which makes it easier for us to track them and keep note of the problems we're dealing with. If we aren't able to clear up a request via email, we set up a personal discussion with the customer and, if necessary, establish a remote connection to the customer's system in order to identify, analyze, and solve the cause of the problem. Some problems can't be resolved within 15 minutes. In those cases, our team discusses the issue in question with our colleagues in Development. Over the course of my workday, I also take on pre-sales appointments and offer support through the live chat. It's important for us to coordinate our break times with one another so that our customers can reach Support at all times.
What do you like about your job?
My friends and acquaintances always ask me what I most like about my job, and what qualities I need to bring to the table. Those questions are very easy to answer. For one, I enjoy the great community feeling here at MailStore, which spans across all departments. Also, my workday is never boring. Our customers face all kinds of different challenges when it comes to archiving their email. That brings a lot of variety to my work each day. You need to be able to listen well in order to help callers in a quick and targeted way, At the same time, it helps us tremendously when we can be flexible in addressing customers, since customers want to feel that they are well-supported. Even when it comes to impatient customers, we always let them know that "We have recognized the gravity of your situation and will help you." Ultimately, it's all about listening, taking care of issues, providing targeted support, and giving customers the sense that we're fully supporting them. In order to be able to do all that, it's important that we have a comprehensive understanding of IT. After all, oftentimes it's not our software that's causing the problem, but rather the interplay between the software and the customer's existing infrastructure. That also means that it doesn't suffice for us to simply have a high level of understanding of the product. Once we've shown how much we can help, we get feedback like the following: "Hello everyone, the switch from the old MailStore Server to the new MailStore Server went perfectly. The downtime for users was under 30 minutes. The faster email searches and archiving from the Exchange environment are incredible! Thanks again for the helpful tips."
Great customer feedback
In order to ensure that we constantly get this kind of great feedback, our service quality remains high, and our customers are satisfied, we send out a brief customer survey after each successfully processed ticket. In this survey, we let customers evaluate their overall satisfaction, our ability to understand the problem and clearly answer questions, our expertise and experience, and the time required until the final resolution of the problem. In the first quarter of 2017, 87.6 percent of our customers gave our support services 4/5 or 5/5 stars. Customers can also add a comment when they complete the survey. We send out the survey because we aim to maintain or improve the existing support quality. In particular, we also want to be able to provide MailStore customers with excellent technical support in the future as well.
And now, to wrap things up on a funny note: As our colleague from the Sales department already reported, we also receive some pretty bizarre support questions. Here's a recent highlight: "Why aren't my WhatsApp message requests working anymore?" In these kinds of cases, we have no choice but to let the customer know in a friendly way that MailStore Server is an email archiving solution, and that we can only provide support for that product.
Would you like to test MailStore Server? Download the free 30-day trial version now.
---
---