MailStore Internships: Forget about Making Coffee!
The idea of an internship that only consists of darting back and forth between the coffee and copy machines is a preconception that has never been a reality at MailStore. Our interns only make their way to the coffee machine when they're craving a latte or a cappuccino themselves. Our intern Jan is here to tell you himself about how internships at MailStore have so much more to offer.
Valued as an employee: our intern Jan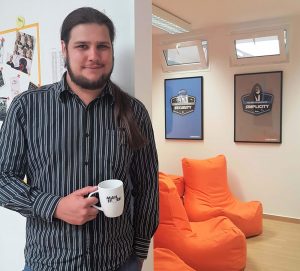 Jan is 26 years old and is currently in the seventh semester of his software engineering studies at Fontys University of Applied Sciences in Venlo, the Netherlands. He likes to spend his free time being physically active outside, where he can bike or explore nature in his kayak. He's also a passionate musician; he plays the bass in a band and practices singing as well. He met one of our employees through music and learned about MailStore while discussing work and study. "The work instantly appealed to me after hearing about it, so I sent in a general application. I received an answer with an invitation to an interview within a week," says Jan.
Jan has been working at MailStore as an intern for five months now, so we asked him a few questions about his work:
How did you know that you wanted to do your internship at MailStore?
The atmosphere won me over while I was getting to know the company during my interview. Everyone introduced themselves with their first names right away, and the entire process was easygoing while still remaining professional. I hadn't encountered that before. I know from experience that there are companies whose management doesn't even know the first names of all their employees. It doesn't matter who's arriving or leaving – everyone is greeted.
What are your tasks here at MailStore?
I'm working on an internal software project where I was given the chance to showcase my talent. During work I am in constant communication with Daniel Weuthen and his team. It's nice to know that my work and its results make an impact on the company's existing products. I'm able to participate and even make my own decisions – I think that's great.
As an intern, how were you integrated into the team?
The first day went really well. Thanks to the relaxed atmosphere, it was easy to settle in. Everyone here is willing to listen. My mentor is Daniel Weuthen, our Director of Engineering. I can work independently here, which feels great. I was integrated into the team from the very beginning.
What experiences have you gained in the course of your internship?
It's been an exciting time so far because I've been able to take over interesting tasks and to gain an insight into complex projects. I'd say it's been a perfect fit for me, as some students report that there are companies out there, that hire interns and leave them alone with impossible tasks. Luckily, I've been spared from such negative experiences. However, it was still a challenge for me to dive into the real working world from the sheltered university environment. I have noticed that there's a certain balancing act between theory and practice over the course of my internship. This has also been my first hands-on experience with agile working methods. I think it's a great way to work, especially since MailStore meaningfully implements the principle in a way that contributes to quality assurance. Agile methods also require an open communication, which means that interns should not hesitate to ask questions.
Could you imagine working for MailStore after successfully completing your studies?
Yes, without a doubt. Working here is really enjoyable. The work environment is great and the people are cool. I enjoy coming here in the morning. I even start to think about what awaits me that day while I'm on my way to work. It can definitely stay this way.
Would you like to do an internship at MailStore as well? Do just what Jan did and send us a general application. You can also let one of our current job opportunities win you over. We're looking forward to your application!
---
---