Software Development and HR: Three Questions for Daniel Weuthen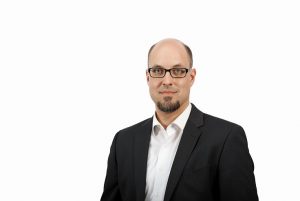 Daniel, as Director of Engineering, why do you deal with recruiting?
The reality of my everyday work has shown me that the demand for software developers is exceeding the supply. Because of that, it's more important than ever for companies to take a long-term approach to managing staffing needs and focus on hiring highly qualified developers. Experience has shown us that young software developers tend to prefer working at organizations that use agile project methods, since these workplaces give them the ability to work outside of rigid hierarchies and demonstrate their qualifications as part of a deeply solution-oriented team. Agility also lets employees 'think outside of the box' to find new solutions and further develop their skills. Because of this, I also recommend building a developer team that is diverse, for example, in terms of employee ages. Maintaining a good balance between 'old hats' and 'rising stars' ensures that the team continually further develops and builds upon its qualifications.
Do you think that IT departments are the driving force behind companies' decisions to become more agile?
I don't want to make any sweeping generalizations, but based on my experiences with medium-sized development companies such as MailStore, that's quite often the case. Large corporations still often leave (the initial stages of) employee recruitment to their HR department, which is seldom ideal. Experience has shown us that it's easier for small and medium-sized companies than for larger ones to realign their personnel scouting and management strategies, as well as all of the associated processes. Executives, the HR department, and the department where the new hire will be employed should all be involved in personnel planning from the start, as well as in the subsequent recruitment process. After all, SMEs need to find the developers of tomorrow today, and they often have to compete with big players on the market for recruits with high potential. The guideline "Individuals and interactions over process and tools" from the Manifesto for Agile Software Development should also apply to recruiting and developing an agile developer team.
What skills does a developer need to have in order to be a good fit for an agile team?
Of course, developing skills lay the foundation for a successful developer team. The team also needs developers with strong teamwork and communication skills who take a high level of transparency as a given and won't hesitate to reconsider decisions or switch directions if necessary.
---
---