New Director of Sales at MailStore: "We will bolster our position!"
How long have you been at MailStore, and what is your job?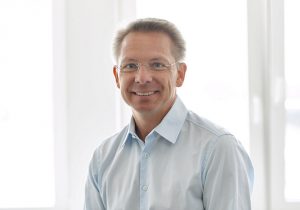 I joined MailStore in June 2017 as part of the Management Team, where I am responsible for the company's overall sales. That probably makes my role more or less clear for a lot of our readers. My aim is to keep MailStore growing further, jointly with my team and our partners. With a currently still pretty small but efficient team we look after end customers and sales partners from all over the world. The most important pillar of our success is formed by the indirect sales through our channel. Without our distribution partners, their resellers, and the managed services providers, we wouldn't have the reach we need to distribute our products. MailStore Server, our core product, is very easy to install, hence it can be purchased from ourchannel partners but also in our online store. And it goes without saying that the usual high-quality technical support offered by our team of experts is always included. Counting direct and indirect sales together, we have sold more than 35,000 installations to date, in more than 100 countries.
How did you get to where you are today, and where did you work before joining MailStore?
I've been in the IT and telecommunications industry for 25 years. After graduating in Business Administration I started my career in market research and sales planning for a German telecommunications manufacturer. This was followed by a number of positions in European marketing management, business development, and international sales at well-known IT companies. At MailStore I can now put all this experience to use in order to help the company grow. I've not been here long, but I already love it. That's due in no small part to the great working atmosphere that prevails across every department.
What are the first projects you're looking to 'tackle'?
MailStore is in a good shape overall, but of course that doesn't mean we've got time to rest on our laurels. As a German company, the lion's share of our business is conducted in German-speaking countries. Naturally, this is partially due to the strength of our distribution channel in this region. We can – and must – build on this strength abroad, both within Europe and overseas, in order to bolster our position and match the performance of our successful product. Despite our healthy pool of more than 35,000 customers in over 100 countries, there is still plenty of potential to increase our market penetration at the international level. We need to tap into this potential, and the ongoing further development of our products will help us to do so.
The second exciting challenge we face is the modernization of our partner program. Those are definitely the two biggest projects we're tackling from a sales perspective.
MailStore sells its software through both its own online shop and external partners. Is it possible, in practice, to keep the two completely separate, or does this lead to conflicts?
If you've got a good relationship with your partners, you can keep the potential for conflict to a minimum. What's important is to make sure the rules are clear. As such, we communicate as closely as possible with our partners, making sure we keep each other informed of any big projects, for example. If in doubt, we leave the business to our partners – their proximity to our customers is of great value to us, and they can respond flexibly to the buyers' individual needs. Just last week, we received an inquiry from the headquarters of a large company for one of their foreign subsidiaries. At the same time, the subsidiary itself had requested a quote from our partner in its own country. The customer will now receive both their software and all further assistance through our partner. What's important is to ensure that our products serve the market's needs successfully, and that we focus on areas where we still have untapped potential. The global SME market is big enough for everyone – and it's still growing.
You work in the IT sector – what would you say your 'nerdiest' feature is?
I'm not sure there's anything really 'nerdy' about me. I'm not the kind of guy who builds computers in his spare time or stays up until all hours programming, anyway. But I suppose I can get lost for hours in all kinds of analysis and research – especially with Excel or BI programs. If that's 'nerdy,' then I guess we've found an answer to your question! Generally speaking, though, the decision-makers on the customer's side expect practical, well-developed solutions that offer a clear benefit for their business. This is the area where I feel most at home, and it's not likely to get boring any time soon.
Can you give us an insight into your life outside of work? Who is Norbert Neudeck when he's not 'Director of Sales'?
I've always been into sports, ever since I was a child. That's something I'd like to keep up, as much as possible. The kinds of sport I do have changed a little over the years – and unfortunately so has the intensity with which I practice them. After pursuing gymnastics for some time in my early youth, I focused much more on table tennis and badminton at university and during the early years of my working life. I even got my coaching certificate for table tennis, and did some work as a coach to pay for my studies. These days I like inline skating, go sailing at least once a year with some of my closest friends, and do some snowboarding in the Alps. Since all these sports are very seasonal and weather-dependent, I can't do them all that often, so I also go to the gym in order to try and keep more or less in shape. I've got to admit though, sometimes I spend most of my time there in the sauna. We've also got a horse who needs plenty of attention – though my role in this regard is more 'decorative' than anything else. Anything to do with riding and professional horse handling is my partner's domain.
Do you have a motto for your professional and personal life?
I don't have any kind of guiding principle or concept that's set in stone. But the more I experience in life, the more I realize that change is the only constant. You've got to stay on your toes – both in business and outside of work. With this in mind, I like to be as proactive as I can in shaping these changes, rather than sitting around complaining that everything used to be different or better.
Please find the official press release here.
---
---