Growing together: EBERTLANG is VAD of the year 2020
In many ways, 2020 was a particularly challenging year for businesses of all kinds. There were some low points, difficult conditions and adversities, but also many new opportunities and rays of hope. Our close cooperation with EBERTLANG was again remarkably positive in this difficult year, enabling both companies to record sales growth. The dedication and hands-on attitude of our colleagues in Wetzlar therefore deserve our 'VAD of the year' award for the seventh time in a row.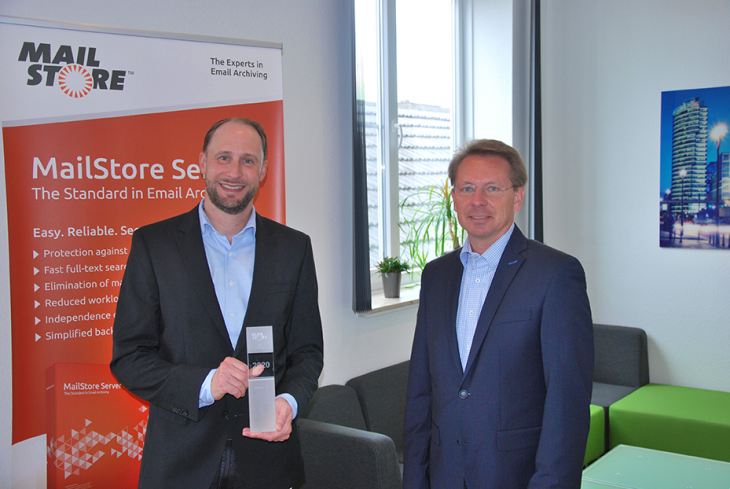 "Many cultures consider the number 7 to be a lucky number," says Norbert Neudeck, Director of Sales at MailStore. "However, the 7th VAD Award for our partner EBERTLANG has nothing to do with luck. It's the result of a close, ten-year-long partnership that is constantly being further developed and in which EBERTLANG has once again demonstrated its innovative strength, especially in these extraordinary times for all of us.
In no time at all, for example, planned face-to-face events were converted to successful online formats. An overwhelming number of more than 4,000 participants registered for the first-time online-only certification courses to become a 'MailStore Certified Partner' or 'MailStore Certified Technician.' This 7th VAD Award is more than deserved."
Philip Weber, CEO of EBERTLANG, had this to say: "I have presented this award several times myself in recent years, and now for the first time I have the honor to receive it on behalf of our team at EBERTLANG. This award is also very special because it confirms the passion that colleagues at MailStore and Wetzlar show every day as they continue writing this success story together."
Besides our well-deserved award, which Philip Weber (an old acquaintance of MailStore) accepted at our offices in Viersen, EBERTLANG has had even more reasons to celebrate lately: There were other outstanding reasons for congratulations in the last year: 25 years as a value-add distributor, ten proud years of cooperation with MailStore, and the repeat Channel Excellence Award from the trade magazine ChannelPartner.
We're looking forward to more successful collaboration in the coming years!
---
---