Why IT Administrators Should Care About Email Archiving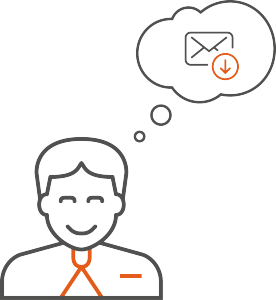 An email archiving solution has many advantages for a company. And it's not just managers and end users who stand to profit, but IT administrators too. So, what are the specific benefits of an email archiving solution for IT administrators?
Scenario: The IT Admin Is Having Nightmares Because of Corrupt, Bloated and Scattered PST Files
We're sure you're familiar with the challenges presented by local PST files. PST files continually generate a high workload for IT administrators. The file format is prone to errors and is therefore also fraught with risk. What's more, PST files that have been saved locally on a user's device can be very difficult to find again. In some circumstances, this can result in data loss and have legal implications. While the legal position on email retention periods may vary on the international stage, most companies are subject to some form of compliance requirement on email retention and handling. As PST files are normally beyond the control of the IT administrator, the file format is an inappropriate means of implementing compliance requirements.
Advantages of Email Archiving for the IT Administrator
A professional email archiving solution can help to solve the problems discussed above. By storing PST files in a central email archive, end users can quickly search and find their emails. This is a big help for IT administrators in their everyday activities as they can reallocate resources and focus on other matters. Email archiving has other benefits too:
Reduce the Workload on Email Servers
Emails can be deleted from email servers as soon as they are fully archived, which means that the servers can be streamlined and run noticeably faster. This also helps speed up backups of email servers as storage is kept lean, reducing both maintenance times and storage costs for the IT administrator.
Simplify Email Restore Processes for Users
Users can restore emails from the archive to their mailboxes themselves without requiring extra assistance from an IT administrator. This also eliminates the need for PST files when backing up emails, and the handling and storage of business-critical emails becomes a much easier task for the administrator.
Eliminate Mailbox Quotas
Server-based email archiving allows the volume of data on the email server to be kept at a constantly low level, eliminating the need for mailbox quotas. IT administrators no longer have to worry about the availability of adequate storage space. As a result, the users' need to create local PST files to save emails due to a full inbox limited by a mailbox quota is no longer present.
Ensure a Complete Archive Through Journaling
Journaling makes it possible to record all incoming, outgoing and internal email traffic. At the time of sending and receiving, a copy of the respective email is stored in a special journal mailbox. An email archiving solution makes it possible to copy the emails from the journal mailbox into the archive before users can delete or tamper with them. This procedure has the advantage of making sure that the archive's integrity is retained even if users delete emails from their mailboxes. Please note: While journaling is a feature offered by Microsoft for Exchange Server and Office 365, other email servers have similar functions which are called "multidrop mailboxes" or "catchall mailboxes".
Additional Advantages of MailStore Server
Our MailStore Server email archiving solution offers a wealth of additional functions and associated benefits that are certain to impress the IT administrator, above all:
Archiving Made Simple
MailStore Server supports virtually all relevant email systems. Modest system requirements coupled with support for virtual environments make archiving even simpler. Besides German and English, the software is also available in Chinese, Dutch, French, Italian, Japanese, Korean, Polish, Portuguese, Russian, Slovenian, Spanish, Czech, Turkish and Hungarian.
Quick and Easy to Set Up
The MailStore Server setup covers installation, user management, and configuration of the archive system. The solution can be installed quickly on any Windows PC, even without an external database. All the necessary components are integrated the moment the setup is complete.
Outstanding Technical Support
Our qualified technical support team can answer all your questions quickly and efficiently, and also provides advance planning support while you are testing our product.
Full Online Documentation
The MailStore Server help provides comprehensive information on all technical topics related to the solution. You can also find useful resources, including the implementation guides that describe how to set up MailStore Server for numerous email systems in detail. The articles containing important information on performing individual tasks, also make getting started easier.
Highly Stable, Great Performance, and Easy to Maintain
Over 60,000 small and medium-sized businesses already trust in MailStore Server and have contributed to market testing and improving the quality of our solutions for many years. By specializing in email archiving solutions, MailStore has succeeded in creating a high-performance, stable, low-maintenance solution that is being continually upgraded.
If we have aroused your curiosity and you would like to find out more, why not take a look at one of our webinars or try MailStore Server right now, free of charge in our free 30-day trial version? In case reading this blog post has led to many new questions on your side, feel free to contact us. Our customer service and technical support are happy to help you out.
---
---