When a Worker Leaves the Company, What Happens to Their Mailstore Server Archive and User License?
When workers leave the company to seek pastures new, dealing with their email archives and user licenses are just some of the administrative jobs that require careful attention.
Deleting the MailStore Server User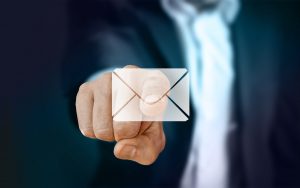 When workers leave the company, it makes sense to delete not only their old email addresses but also the associated user in MailStore Server. This has clear benefits because the user license of the departing member of staff will then be available for someone else to use.
So, rather than purchasing another license, the old license can be used for a new recruit, for example.
If you synchronize your users with directory services, it's important to remember that although user accounts are added automatically to MailStore Server, they will only be removed automatically if the Automatically delete users in MailStore Server option has been selected. In this case, please remember that only the user is deleted, not the associated email archive that was created. If you create your users manually, you will need to remove the user of departing workers manually as well.
Retaining the Email Archives of Workers who Have Left the Company
You should not delete the email archive of a worker who has left the company. This archive is important for your company for two reasons: first, it could be that the former employee has been sending out important documents by email only and has omitted to save them on the file server. A development project could be set back significantly if crucial information were found to be missing just when it is needed most.
Second, you should also be aware that in order to meet a growing number of compliance requirements it might be necessary to keep the archived emails for some time.
Giving Another User Access to the Email Archive of a Worker Who Has Left the Company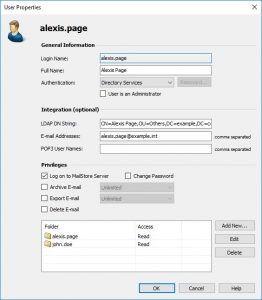 Granting a successor read access to the email archive of a former employee is one way of ensuring that the archive remains available in everyday business. The successor could be a new recruit or an existing colleague.
By granting read access, the successor will be able to inspect the archive via its folder structure and by using the search function so that e.g. order confirmations or emails on a certain project can be located and restored quickly.
The archive can even be accessed simply and securely while on the road.
This option in MailStore Server can be activated by adjusting just a few settings: first, you should remove the departing worker's user in MailStore Server if this is not done automatically when synchronizing directory services.
Then, you can grant the successor read access to the email archive of the departing employee. To do this, open User Properties in the section Administrative Tools – Users and Archives, then add new read privileges to the archive of the departing worker under Privileges.
In this way, the archive can continue to be used and searched by existing MailStore Server users without having to buy extra licenses. And the company can safeguard important email contents without incurring extra costs.
Other Interesting Topics:
---
---