Case Study: Interview with André Milich, IT admin at L'Osteria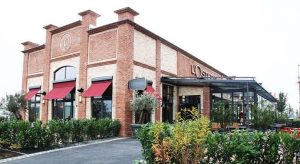 L'Osteria is an Italian restaurant concept with 55 locations in Germany, Austria, and Switzerland. The pizza and pasta dishes at L'Osteria are always delicious – that much you can count on. But you can also count on the fact that thanks to MailStore Server, email archiving at these locations is secure and reliable.
Mr. Milich, when did you start using MailStore Server, and what were your reasons for choosing this solution?
"We chose MailStore Server on the recommendation of our IT service provider and implemented the software in early 2014, forgoing the test phase altogether. The reasons for acquiring this software were to fulfill legal requirements, to reduce the workload of email servers, and to simplify the backup and restore processes. At the same time, we wanted to give our employees a simple way of searching through, locating, and retrieving archived emails."
If you were being completely honest, would you say there were any problems?
"No, not at all. The initial setup was simple and smooth. After a quick adjustment phase, we found the installation and setup processes very straightforward. Since then, the software has been running stably while delivering outstanding performance. Even though the number of users has increased to 450 over time, we haven't experienced any complications. This is why we unfortunately cannot judge the quality of support offered by MailStore yet – we simply haven't needed any support up to now. But we have been very impressed with the solution and feel confident that the support quality of the Viersen-based German company would be no less excellent than the software itself."
What archiving methods do you use, and what is your overall assessment?
"We archive the emails in the mailboxes every day, overnight. We implement journal archiving for all incoming and outgoing emails. We've also set the program to delete all the emails in our employees' mailboxes that are older than six months. So far, we have been able to achieve all the goals we had set out to achieve – and were assured we would achieve – by using MailStore Server. I would definitely recommend MailStore Server to other small and medium-sized businesses."
Thank you Mr. Milich!
A detailed case study about the L'Osteria project can be found here.
---
---