The Challenge of Managing PST Files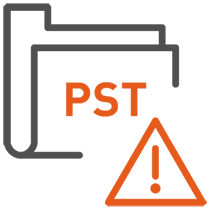 Companies are still actively using PST files. For example, these files are often used to store emails from inboxes externally as a way of avoiding storage limits. Administrators therefore face many challenges when using PST files:
Time-consuming backup
Generally speaking, PST files are not saved to a central system, but instead are saved locally on users' computers. This makes it difficult to back up files and often leads to important data being lost.
Unreliable file format
While older PST formats are often damaged when file sizes exceed 2 GB, more modern formats are also not completely protected from data corruption. Using PST files that have not been saved to local workstations is particularly risky.
Requirements for compliance and e-discovery cannot be fulfilled
Most companies are subject to various legal requirements for the storage and handling of emails. PST files generally elude the monitoring and control of the IT department, and therefore do not allow the company to comply with the necessary requirements. For example, users can freely delete emails from PST files, which prevents the company from properly enforcing email storage guidelines.
Strain on the IT department
PST files require constant maintenance from IT administrators. For example, lost data from backups must be restored, or defective files in the user assignment have to be repaired. When saved to a central system, PST files significantly increase storage and backup requirements.
The Solution: Central Archiving of all PST Files
MailStore Server enables all PST files in the company to be archived in a central system. For example, thanks to seamless integration, users can also access their emails in Microsoft Outlook and search through them using an extremely fast full-text search. If need be, users can independently restore emails from the archive with a single click. This way, IT no longer has to go through the time-consuming process of restoring lost emails.
Furthermore, the use of archiving solutions means that PST files no longer need to be used as a solution for mailbox storage limits. MailStore Server can delete emails from mailboxes once they have been archived according to a rule-based process, and in this way it ensures that the volume of data on the email server remains low. Mailbox limits are no longer required.
Discover further advantages of email archiving or start your free 30-day test version of MailStore Server today.