Basic Concept
When end customers select a cloud service provider for their email archive, they need a service that will support them to ensure the integrity, availability, and confidentiality of their business-critical information. The MailStore SPE provides each end customer with their own self-contained MailStore instance that operates completely independently of those belonging to other customers.
Administration
The instances are centrally managed by the service provider using the web-based management console or the API. This includes the setup of new instances and the management of storage locations within the archive. The so-called archive administrator is responsible for the tasks that run within an instance. These include the compliance settings and the permissions management.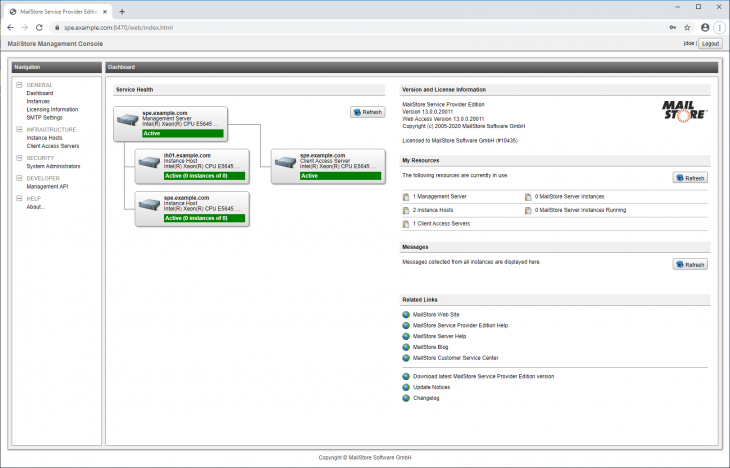 Depending on the specific requirements, either the service provider or the end customer can perform this role. The special feature: Only the archive administrator can be given access to the emails archived within the instance. This feature can be used to implement business models, if requested, where the service provider does not have direct access to the end customers' data.
Features and Advantages for End Customers
When the end customer invests in the MailStore Service Provider Edition, they receive a fully operational MailStore instance, with the same comfort and flexibility of our MailStore Server on-premise solution – already used in over 80,000 companies.
First Steps
Easy Trial
You can install all components of the MailStore SPE on one computer using a simple setup process in 'single server mode' during the first phase of the installation process
This allows you to install MailStore SPE and begin using the solutions within minutes
Licensing
After deciding to permanently use the SPE, service providers are billed monthly and based on usage
A free NFR (not for resale) instance can be permanently used for the service providers's own email archiving for up to 25 users
Consultation
Our support team is available to discuss the details of your individual system scenario and help you plan your deployment of the MailStore SPE