Partner Interview with James Steel from Zen Software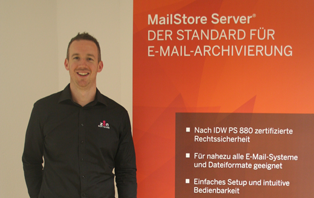 Manchester-based Zen Software are a value-added distributor of software products aimed specifically at small businesses. Supplying a small number of carefully selected software titles (e.g. MailStore Server), Zen differentiate themselves by focusing on knowing the products they sell intimately, which enables them to provide the best possibly customer service and support experience for both end users and resellers alike.
We are pleased that James Steel from Zen Software recently visited us at our MailStore headquarters in Viersen, Germany. Of course we did not want to miss this opportunity to ask James a few questions about his work and experiences with MailStore:
Which department are you responsible for at Zen Software?
Well my official role at Zen Software is Sales and Marketing Manager, but like the rest of the team here I can often be found helping out across different areas of business when needed. I've even been known to make the tea occasionally (contrary to what the others may tell you!).
What is the first thing that comes to mind when you hear 'email archiving'?
Indispensable. Of course I could be considered slightly biased on the subject, but I have to say I'd be pretty lost without MailStore's search! So often I find I want to reference a conversation I've had with a client or supplier and the ability to find complete message threads with only the minimum of search criteria is something I genuinely find invaluable.
Which MailStore Server services do you offer?
We provide online sales, licence management services, pre-sales consultancy and post-sales support to all of our customers – we also provide marketing assistance, and account management services to our partners.
Your best experience with MailStore?
It's actually a modelling agency that spring to mind, and no, not for the obvious reason! MailStore ended up instantly paying for itself and more when they found themselves in a position where it was necessary to take an employee to court. That person had thought they'd been covering their tracks by deleting messages from their mailbox, however because the company had all communications archived in MailStore, a potentially complex case ended up being fairly cut and dry.
What do your partners like about MailStore Server?
I think if you were to ask, most will say they like it because it's basically relieving a big headache! It's putting an end to the need for them to continually fire fight overloaded mailboxes on behalf of ever-demanding customers. When I ask why they choose it over the competition, most indicate it's the simplicity with which it can be up and running. Above all though, the fact that once it's in, clients love it, means they get to enjoy receiving glowing feedback which of course only reflects positively on them.
Which project are you already looking forward to?
Well there's lots going on at the moment but one project of interest is a trial initiative aimed at our partners that makes it possible for them to send professional, customised promotional materials about MailStore Server to their own customers without really needing to lift a finger. I'm hopeful that one will kick off our plans for world domination.
Our thanks to James from Zen Software for answering the questions.
---
---