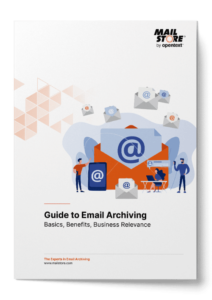 Whitepaper: Guide to Email Archiving
Email is still the no. 1 digital communication channel in the business environment. Find out how to correctly manage and secure the business-relevant information contained in your emails.
You can expect:
Overview of the different methods of email archiving
Expert knowledge on retention policies and data privacy
Checklist to find the right archiving strategy
How Much Do You Know About Email Archiving?
What is email archiving actually? What economic and legal grounds exist for archiving your emails in a professional manner? Why are backups not an adequate substitute, and how can I find an archiving solution that is right for me? You'll find answers to these questions in our white paper entitled "Guide to Email Archiving".
Get Your Free White Paper Now
The white paper is specifically targeted at small and medium-sized businesses (SMBs) who are interested in email archiving.
About the White Paper
Date of publication:
2023
Length:

24 pages

Format:
PDF file to download
Target group:
– Heads of IT, IT managers and administrators
– CIOs, CSIOs, Compliance officers
– CEOs, and business owners
From the Contents
What is email archiving and what archiving strategies are there?
Why is email archiving so important?
Retention policies and data privacy: how email archiving can help
The benefits of email archiving for your IT department and your business
Check List: find the right email archiving solution for your needs
About MailStore
MailStore Software GmbH from Viersen near Düsseldorf, Germany, is one of the world's leading providers of email archiving solutions. Over 80,000 companies, public authorities and educational institutions in more than 100 countries have placed their trust in the products of the German specialist. Because we are "the Experts in Email Archiving".