New Case Study: MailStore Implemented at Solinger Tageblatt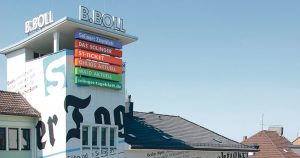 The 'Solinger Tageblatt' is a regional daily newspaper and is on of the oldest independent newspapers in Germany.
"After briefly exploring the market, we opted to go with MailStore Server based on a recommendation. I would still make the same decision today and can highly recommend the software. It is an excellent product in every respect and comes with excellent service. The support teams from EBERTLANG as well as from MailStore offer an outstanding level of service. They offer a great deal of expertise, respond very quickly, focus on the customer, and are very friendly. Many other well-known vendors would do well to follow this example. Everything 'Solinger Tageblatt' needs from an email archiving software is provided by MailStore Server at an excellent price/performance ratio," says Thomas Kind, Head of IT at 'Solinger Tageblatt'.
Please click here to read the entire case study. If you want to receive more detailed information on MailStore Server, sign up and participate in one of our webinars, which we hold regularly free of charge. Click here to sign up for one
---
---