Partner Week at MailStore
We can proudly say that we have strong partners, both within Germany and beyond. Our partner network opens up a great deal of potential for success – potential that we are very happy to tap. The network allows us to continue to grow and pass on our email archiving expertise. We are currently expanding our channel activities. This month we focused on our distributors EBERTLANG and Sun Capital.
RA-Micro Innovation Days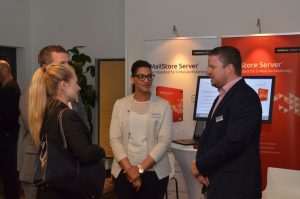 EBERTLANG has served as our committed – and highly successful – distributor in Germany, Austria, and Switzerland since 2010. To celebrate this success, we have presented this special distributor for infrastructure software with the VAD of the Year award for excellent sales figures three times. Last week, our colleagues Alexander Cramer and Wendy Seidler attended the 5th RA-Micro Innovation Day in Cologne, Germany, which EBERTLANG representatives also attended. RA-Micro is a specialist retail partner supported by EBERTLANG that has specialized in and offers proprietary software for law firms. The RA-Micro Innovation Days are a popular event series featuring exciting lectures specially tailored for lawyers. This year's event focused on the topic of 'digital transformation.' Visitors were given the opportunity to learn about digitalization, as well as how to quickly recognize and act on related opportunities. Adrian Brandtner of EBERTLANG gave a specialist lecture on the MailStore Server and informed listeners of the advantages of email archiving. As such, his audience received a practical orientation in how to prepare their law firms for the digital transformation. EBERTLANG representatives were present at the event for the entire day along with Annika Beyer, and provided advice about the MailStore Server.
Partner Event in Poland
Email archiving was also a hot topic at a recent Sun Capital event in Poland. Sun Capital has specialized in distributing various IT security products. MailStore has been successfully cooperating with Sun Capital for five years now. Last week, this distributor held its Partner Forum in Wroclaw, the fourth-largest city in Poland. Our colleagues Kai Jöres and He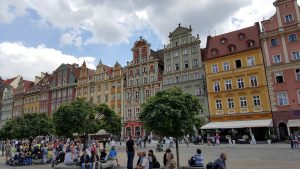 iko Borchardt made the journey there and visited our partner. They informed event participants about MailStore and our products. Afterwards, the MailStore SPE and MailStore Server were described in detail at a live demo. Event participants were particularly excited by our solution's latest feature, the Status Report. The well-organized event concluded with a dinner for all participants in a laid-back atmosphere.
With each passing day, it makes me more and more happy to see how well the new features in our Version 10.1 are being received, and the excitement they're eliciting. We are facing the future with excitement and already looking forward to our partners' upcoming events.
Would you also like to offer your customers email archiving? Then register here and expand your solution portfolio. We would be happy to bring you into contact with the relevant distributor. Our team would be happy to provide you with further information and advice, please contact us at [email protected].
---
---