New MailStore Home 5 Email Archiving, Backup and Migration Software For Free
We today announce the release of MailStore Home 5, the most user-friendly version of our free email archiving, backup and migration software for personal use. Following more than 1,500,000 free downloads of MailStore Home to date, we responded to consumer feedback by introducing new sought-after features to MailStore Home 5 – giving users peace of mind that their emails are protected and secure.
Key updates to MailStore Home 5 include:
Portable Archiving/Archive to USB: MailStore Home 5 can now be used on any USB drive, creating a portable email archive for quick access on-the-go without installation
Auto Configuration of Settings: Before the archiving process, MailStore Home 5 automatically recognizes email account settings based on each email address, ensuring a seamless archiving experience
New User Interface: MailStore Home 5 offers a re-designed, modern user interface that is highly intuitive and makes archiving easier than ever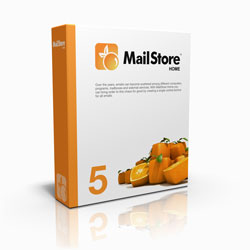 More and more consumers are relying on free webmail services that do not provide users with any kind of backup system for important personal emails. One of the worst feelings is the panic that sets in when your email provider goes down and you realize you may have lost your emails forever. Our new MailStore Home 5 software helps users gain independence and avoid that anxiety, giving any consumer a straightforward, practical way to backup all of their emails in seconds – free of charge.
In addition to its new features, MailStore Home 5 continues to offer email and webmail users a wide variety of email archiving, backup and migration tools, including:
Full Email Backup Capability: Consumers can backup all of their emails and folders locally to their computer, avoiding potential loss either through incomplete backups or security flaws at a webmail provider. Supported email archiving sources include any POP3 or IMAP mailbox, Gmail, Yahoo! Mail, Microsoft Outlook, Windows Mail, Microsoft Exchange Server, Mozilla Thunderbird and SeaMonkey
Migration and Export Functionality: Don't get locked into one email provider for a lifetime – MailStore helps users efficiently export their inbox and migrate from one email service to another, letting consumers switch email providers at any time for added independence
Full Text Search of Email Archives: Trying to find that attachment that seems to have disappeared? With this tool, MailStore Home users can search through hundreds of emails and attachments in their archives in mere seconds
---
---