Email Archiving for free with MailStore Home
"I love MailStore Home! I love that it backs up all my g-mail. Not that I don't trust the cloud but…" John E. wrote these words on facebook. And some of you were wondering. About something they didn't hear of before. Because they are professional users of MailStore Server with their business activities. Very satisfied with it. But they never cared of their private email accounts before Hotmail had these problems last year. And Gmail users had a look on empty mailboxes a few weeks ago.
So I shout out loud: We are not only for those who want to streamline their business IT. With MailStore Home we offer a private email archiving solution also. For free!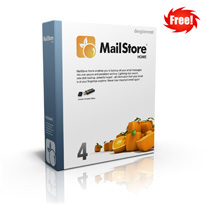 It is a central archive for all emails. Especially for the following:
Internet mailboxes such as Gmail or Yahoo Mail
Any mailboxes using POP3 or IMAP
Microsoft Outlook 2000, XP, 2003, 2007, 2010
Microsoft Outlook Express and Windows Mail
Microsoft Exchange Server and Hosted Exchange
Mozilla Thunderbird and SeaMonkey
.EML and other email files
So never lose private emails again. MailStore Home.
---
---