Experience Our Products Live at a Webinar: Free and Without Obligation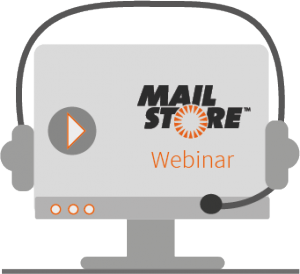 2018 has begun. Did you promise yourself that you would learn more about email archiving and MailStore this year? Our experts will help you by giving a live-demo of our products, MailStore Server and the MailStore Service Provider Edition (SPE), in the webinar of your choice, free and without obligation.
MailStore Server
In our one-hour MailStore Server webinar, we'll show you how email is archived and exported, how users can access their archived emails, and how user accounts are created. We're also excited to tell you more about the unique storage technology MailStore Server uses. Here are all the webinar dates at a glance:
Interested? Register now right here and experience MailStore Server for yourself.
If you would like to take a look at our email archiving solution MailStore Server before the webinar, please check out our product video.
The MailStore Service Provider Edition (SPE)
In 60 minutes, you'll discover new revenue potential for your company during our MailStore SPE webinar. Find out about the benefits of hosted email archiving and learn more about our scripting and branding options. Here are all the webinar dates at a glance:
Are you interested in our SPE webinars? Then register now as a service provider to receive an invitation to our webinars.
Pssst! Here's a little tip: Contact SPE@mailstore.com for interesting info on promotions for new customers.
Naturally, questions that arise during the webinar will be answered. If you have questions after the webinar, please contact our support team.
Sharing
2 Responses