Do you know the different email archiving options available for Microsoft Exchange Server? With Microsoft Exchange Server, you can choose between two scenarios ensuring email archiving that helps to meet a growing number of compliance requirements and can also assist with eDiscovery scenarios:
Scenario 1: Use of the "In-Place Archive" provided by Microsoft
This scenario allows you to create an additional "In-Place Archive" mailbox for each user mailbox.
Scenario 2: Use of an external archiving solution
This scenario describes how an external archiving solution, e.g. MailStore Server, can be used.
In our whitepaper, we take a look at these two scenarios in more detail and compare them with regards to the requirements on the IT infrastructure, taking the following topics into account:
Storage capacity requirements
Data backup requirements
Time and resources spent on restoring emails
Redundancy and downtimes
Licenses and costs
Effort required for the IT administrator
Whitepaper: Email Archiving Options for Exchange Server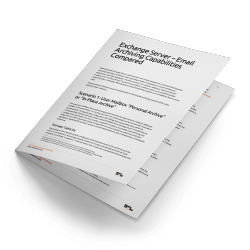 The 5-page whitepaper is meant to help you choose the ideal archiving scenario for your company and your needs.

About MailStore
MailStore Software GmbH, one of the worldwide leading manufacturers of email archiving solutions, is headquartered in Viersen, Germany (near Düsseldorf) and is a subsidiary of Carbonite, Inc. (Nasdaq: CARB), a leading cloud-based data protection provider, headquartered in Boston, USA. Over 80,000 companies and public and educational institutions in more than 100 different countries have placed their trust in the products of this German specialist.