I am MailStore because…
We begin a series of blog posts today in which MailStore employees provide an insider's perspective about their job at MailStore and, more importantly, why they like working here so much. Our colleague Kristina Waldhecker will now respond to our questions.
Who are you and what are your duties?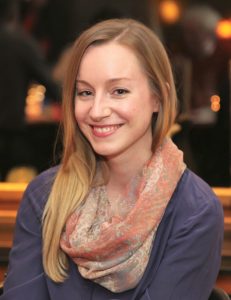 I have been working for MailStore since 2012. Since March, I am responsible for our product-specific marketing for all MailStore products as Product Marketing Manager. Product marketing is a wide-ranging field that includes responsibility for market analysis and marketing materials, as well as dealing with product messaging and partner programs. It is important for my job that I have a comprehensive knowledge of our products which is why I act as an interface between the individual departments to centrally compile knowledge and information.
Before I began my new position, I worked for four years as Channel Sales Manager, where I was the first point of contact for our international partners. In this time I built up a great deal of knowledge about our markets and customers, which is invaluable in my new post.
What do you like about your job?
What I like about it is that I can apply the knowledge I gained in my previous position while also drawing and expanding on the skills I developed during my studies (majoring in marketing). The field of marketing is unbelievably complex and has always fascinated me. I also find it very exciting to be able to get a closer look at other areas of the company, which the interface role required by my new job makes possible. For example, I take part at weekly meetings of the Engineering team, where I learn which features are being developed and how our products are being enhanced. In my current job I also work more frequently within cross-functional teams, which I always enjoy.
Please complete this sentence: I am MailStore because…
…I really like our working climate. MailStore has a very family-like atmosphere where everyone takes the time to listen to each other – even in case things get a bit stressful. Everyone can simply be who they are and complements the team perfectly this way. I also value how flexible MailStore is as an employer. For example, this flexibility allowed me to transfer from the Sales to the Marketing department without an issue and build on my knowledge from my previous position. Because I studied International Business, it is also exciting for me to be able to observe at first hand how day-to-day operations change when a mid-sized German company like MailStore becomes a subsidiary of a large American corporation like Carbonite. Of course, this is a lot more interesting than any case study you might deal with at university. As you might imagine, the working culture at two companies like ours can be fairly different. Nevertheless, we see each other as being part of one team, in which everyone works closely together to achieve the best possible results. We can learn a lot from each other this way.
If you believe you could support us in software development, quality assurance, marketing, PR, or sales, we would love to hear from you. Please send us your open application by email to [email protected].
---
---