Best Practice: How do you manage a user's MailStore archive once they have left the company?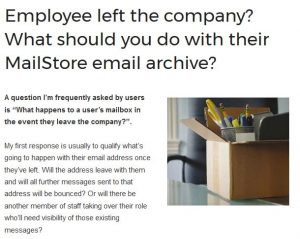 Our distributor Zen Software provided some valuable tips on this topic in a blog post. Read the post to find out what changes to make in the user management in MailStore Server if this situation arises.
Do you have any questions regarding user management in MailStore Server? See the section on 'Users, Folders and Settings' in the MailStore Server Help for further information. Our support team will also be glad to help you!
You are not using MailStore Server yet? Try it: https://www.mailstore.com/en/products/mailstore-server/mailstore-server-trial-download/